Oakley — The full-time pastor at Immanuel Lutheran Church in Oakley, the Rev. Theodore Cook, also is the vacancy pastor at a congregation 40 miles away.
"Right now, it may simply be coincidence," said Cook, one of many pastors caught in the growing trend of empty pulpits and those having to serve more than one congregation.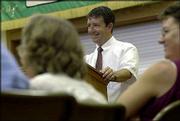 "Why do guys leave northwestern Kansas? They get called to other churches for advancement, they move closer to family, they need a change of pace or simply a change," Cook theorized about the increasing number of underserved churches in the area.
Cook has been the vacancy pastor at Immanuel Lutheran Church in Hoxie since the late 1999 departure of the Rev. Russell Helbig, who moved to lead two parishes in south-central Illinois.
Even Cook is contemplating a move. He recently turned down an offer to move to a church in northeast Kansas but has another offer to move to southeast Kansas.
Part of the dilemma in choosing whether to accept a new job, he acknowledged, was the fact that he would be contributing to the vacancy of not only one pulpit in northwest Kansas but two if he leaves. He doesn't expect to make a decision on the second job offer until later this month.
Fighting a stereotype
In the Kansas District of the Lutheran Church Missouri Synod northwestern circuit, there are nine parishes Oakley, Atwood, Oberlin, Phillipsburg, Kensington, Hill City, Hoxie, Colby and Norton. A part-time pastor serves Hill City, and Hoxie is trying to hire a seminary candidate.
"'Does northwest Kansas have anything unique that makes it difficult for men to come here?"' Cook asked himself out loud.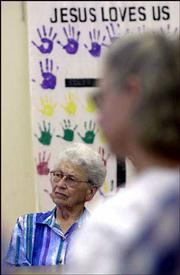 He answered his own question by saying that to men who grew up in the city, the area is considered to be "almost foreign."
"To some, rural areas are seen as stagnant or declining. But, coming out here, it doesn't take long to appreciate the closeness communities enjoy the openness of the countryside and milder weather. Northwest Kansas has real growth potential if people would look past the stereotype," Cook said.
It's convincing other pastors that's difficult.
"Over the next 10 years, we have a projected shortfall of pastors by 25 percent across the synod and a greater shortfall in rural areas like northwest Kansas," he said. "It's going to show up in the rural areas first because rural areas have less money. Thus, rural churches will be forced to form dual parishes. Overall, the church prefers this option."
While the Oakley and Hoxie Lutheran Churches have not yet done so, Cook said he would continue serving both churches until advised differently.
A degree of education
Cook believes underserved churches will survive by utilizing lay pastors or worker priests, one who might be ordained but has another job.
"Generally, lay pastors are licensed to conduct liturgy and to preach under the supervision of an ordained pastor," he said.
In order to describe the differences, Cook said he believes it comes down to education.
"I'd probably say that among the major denominations Lutheran, Catholic, Episcopalian, Presbyterian, Methodist and Baptist there is an equal level of education. They all generally require a master's degree before ordination," he said.
In the Lutheran Church, he said, there are two main "routes" a person can take to obtain an undergraduate degree the system route versus the non-system route.
The system route is where the prospective pastor studies at one of 10 synodical colleges before entering one of the synod's two seminaries Concordia Seminary at St. Louis or Concordia Theological Seminary at Fort Wayne, Ind. The non-system route is where the prospective pastor earns an undergraduate degree from any accredited college before entering one of the seminaries.
Realizing that not all churches require their pastors to be ordained, Cook explained that one option to filling empty pulpits within the Lutheran Church might be the use of more lay pastors. For instance, prior to Hill City's church recently installing its minister, Cook said the congregation was considering a lay pastor.
"Within our denomination, the ordained minister is called by the church at large to serve a congregation, whereas a lay minister might be called by a congregation but he is under the supervision of an ordained minister at that parish or a nearby parish or under the district president," Cook said.
In addition, the Lutheran Church recently has introduced the Distance Education Leading To Ordination program, an alternative to the traditional, four-year seminary program.
DELTO was designed for Lutheran laymen who already are providing pastoral services in congregations that cannot otherwise financially support a full-time minister. The program also allows those seeking ordination the opportunity to continue to work at their secular, paying job while serving the church in what is known as the "worker-priest" arrangement.
Copyright 2018 The Lawrence Journal-World. All rights reserved. This material may not be published, broadcast, rewritten or redistributed. We strive to uphold our values for every story published.