Gullane, Scotland — Monty wowed the home fans just when they least expected it. All they can hope now is he wasn't just setting them up for yet another weekend of disappointment.
With loving crowds shouting encouragement all the way, Colin Montgomerie showed some of the brilliance Scottish fans expect of him Friday with a 7-under-par 64 that put him within two shots of the lead in the British Open.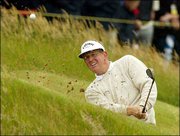 It was Montgomerie at his tantalizing best. It also was something his fans have seen before, only to have their hearts broken again and again.
Just last year, Montgomerie led the Open after two rounds before fading away.
He wasn't exactly making any promises this time, either.
"I want to keep this momentum going. I know I can win. I've never been frightened of winning here," Montgomerie said. "I've just got to use that psychology, if you like, in a positive way over the weekend."
Montgomerie, who cut a radio interview short and sulked off without comment after shooting a 74 in Thursday's opening round, was in a much better mood after making an eagle and five birdies in a light rain on the Muirfield links.
It was hard for even an often scowling Montgomerie not to be happy after a round where everything he did was cheered on by his fellow Scotsmen.
He opened with a bang hitting a 3-iron to within 20 feet for birdie on the first hole and closed with a flourish after a 4-iron left him a 12-footer for birdie on the 18th. In between, he made an eagle on the par-5 fifth hole and never had a bogey.
"Walking up the last here in Scotland with that support was terrific, especially the way I finished as well," Montgomerie said. "The crowd was tremendous and also yesterday as well. When they realized I was having problems around the turn yesterday they got behind me, which was super."
That reaction is typical of fans who still hold hope that, at the age of 39, Montgomerie still has a chance at a major championship. To have it come in his native Scotland would mean even more.
Montgomerie isn't so well received in other places, though. He has had run-ins with fans in the United States, and a golf magazine even handed out free "Be Nice to Monty" pins at the U.S. Open last month.
Fans there hardly had time to work up any anger, though, as Montgomerie missed the cut.
It looked like things wouldn't be much different in his home Open as Montgomerie struggled to an opening 74 that irritated him so much he brooded about how he could turn it around.
"Yesterday was so disappointing I wanted to go out and prove to one person I can do this," Montgomerie said. "I wanted to prove to me I can still do this and compete at this level."
Montgomerie switched to a new set of irons he had in the trunk of his car, but he credited most of his turnaround to the fact he finished late Thursday and teed off early Friday a combination that gave him little time to be despondent over his situation.
"It proves I can play the game," Montgomerie said of his round. "I'm looking forward to the weekend, especially the way I'm swinging the club now."
So are his fans.
Copyright 2018 The Associated Press. All rights reserved. This material may not be published, broadcast, rewritten or redistributed. We strive to uphold our values for every story published.