Gullane, Scotland — Phil Mickelson was up to his knees in hay and down on his knees as he tried to play out of a pot bunker. At the end of a disappointing day in the British Open, he was thankful to still be standing.
"I felt like I was never able to try to make birdies. I was always trying to make pars," Mickelson said after a 5-over 76 Friday. "That was a difficult thing."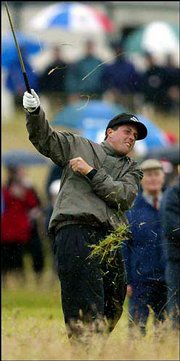 He did make one birdie when it mattered on the par-5 17th hole, which enabled him to at least make the cut in the one major championship that has his number.
Mickelson was runner-up in the PGA Championship last year and the U.S. Open last month. He has finished third three times in the Masters.
Mickelson never has finished higher than 11th in the British Open and never seriously has contended. He thought this year might be different, especially having spent the last 18 months changing his swing to give him a better shot at links golf.
Mickelson was at 2-over 144, eight strokes behind, and will have to climb past dozens of players to get anywhere near the leaders over the weekend.
"I don't want to say I'm out of it yet," Mickelson said. "Stranger things have happened."
Strangest of all was the one part of his game that has suffered the most over two rounds on the Muirfield links. Mickelson has made vast strides in his driving this year, and that's one of the keys to avoiding big numbers at this British Open.
Mickelson has hit only 12 fairways in two days, putting him at the bottom of the list in driving accuracy.
"I was a little concerned because I didn't strike it well yesterday," Mickelson said. "I went out early and had a practice session, and I had a tough time feeling comfortable. When the first drive went right and I made double, I knew I was in for a tough day."
Copyright 2018 The Associated Press. All rights reserved. This material may not be published, broadcast, rewritten or redistributed. We strive to uphold our values for every story published.