Abiteye, Nigeria — Unarmed women occupying at least four ChevronTexaco flowstations in southeastern Nigeria took two oil workers hostage Friday in a bid to force company officials to come to them for negotiations.
The hostage-taking came as another group of women were leaving ChevronTexaco's main oil terminal, ending a peaceful 10-day protest that crippled the oil giant's Nigeria operations and won an unprecedented company pledge to build modern towns out of poor villages.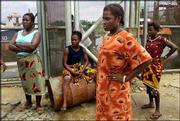 The company was arranging negotiations with the hundreds of women holding the flowstations.
The women barred two Nigerian workers from leaving the Abiteye flowstation Friday. The two workers had stayed behind to finish their shifts when other workers were evacuated as the protests started earlier this week.
"We will not let them go. We are holding them hostage," said Josephine Ogoba, a protest leader. Two other men who arrived to replace the hostages were staying voluntarily, she said.
All four could be seen moving freely within the facility, but were chased back if they approached the gates.
The women said they were angered by a message from ChevronTexaco asking them to send representatives to a meeting with company officials and tribal leaders in the southern city of Warri.
"They want us to meet the community leaders who are men, who live in Warri, and who don't know our suffering," Ogoba said. "If Chevron will not come here, we will not allow their staff to go."
ChevronTexaco officials could not immediately be reached for comment Friday. The women have said they want jobs for their sons, electricity, water and other amenities.
Thursday evening, the women ending their protest began to be ferried out of the main terminal in ChevronTexaco boats and headed back to their home villages.
The women had trapped about 700 American, British, Canadian and Nigerian workers inside the terminal.
The women, ranging in age from 30 to 90, used a traditional and powerful shaming gesture to maintain control over the facility: They threatened to remove their own clothing.
After days of negotiations, ChevronTexaco agreed to build schools, clinics, a town hall, electricity and water systems in villages of rusty tin shacks. The company also agreed to give jobs to at least 25 residents over five years, and to help build fish and chicken farms.
Nigeria is the world's sixth-largest exporter of oil and the fifth-largest supplier to the United States.
Copyright 2018 The Associated Press. All rights reserved. This material may not be published, broadcast, rewritten or redistributed. We strive to uphold our values for every story published.