The Rev. Vince Krische, director of the St. Lawrence Catholic Campus Center at Kansas University, received the Rev. Charles Forsyth Award for his work in campus ministry at the Catholic Campus Ministry Assn.'s Development Institute's dinner and award ceremony June 28 in Phoenix.
The Forsyth Award is the most prestigious award CCMA confers on a campus minister. The award is given each year to a campus minister who has demonstrated outstanding leadership in campus ministry on the local, regional and national level.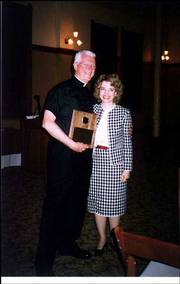 Krische has served as director of the St. Lawrence Catholic Campus Center since 1977.
He has chaired the Kansas Catholic Campus Minister Assn. for 15 years. He initiated the Kansas Catholic Students Assn. in 1972.
In 1996, he served as representative for Catholic Campus Ministry in the United States to the World Congress on International Students held at the Vatican. He was recently appointed to the National Advisory Council for the U.S. Catechetical Directory of the United States.
Copyright 2018 The Lawrence Journal-World. All rights reserved. This material may not be published, broadcast, rewritten or redistributed. We strive to uphold our values for every story published.