Chicago — No way Mark Prior was letting the Houston Astros beat him again.
Prior scattered two hits and struck out eight, and Moises Alou homered against his old team as the Chicago Cubs beat the Astros, 5-0, Friday afternoon.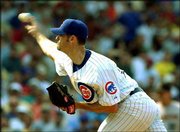 "He threw great," said Craig Biggio, who had Houston's only extra-base hit off of Prior. "He never made any mistakes out over the plate and really pitched a great game. He's good."
Alex Gonzalez drove in two runs and Corey Patterson added an RBI for the Cubs, 6-2 since the All-Star break.
Nelson Cruz (1-5) struck out a career-high eight and allowed only two hits in 51â3 innings. But one of those hits was Alou's solo homer, and that was all the Prior (4-2) needed.
"I came in today and wanted to do some things," Prior said. "Obviously I wanted to get back at them from the other outing I had."
Prior, the second pick in last summer's amateur draft, had his worst start in the majors when he faced the Astros on June 1. He gave up seven runs in 32â3 innings that day.
Prior was firmly in control for eight innings, the longest outing of his young major league career. He didn't allow any walks and has given up two earned runs or fewer in eight of his 11 starts.
The Astros' only real threat came in the first inning, and that wasn't even Prior's fault. With one out, second baseman Mark Bellhorn bobbled what should have been an easy grounder, and Craig Biggio reached on the error.
Marlins 4, Expos 2
Miami Florida ended an eight-game losing streak, winning for the first time since the All-Star break as Michael Tejera (6-2) won his fifth straight decision at home.
Mets 4, Reds 2
Cincinnati Mike Piazza, Edgardo Alfonzo and Roberto Alomar hit solo home runs, and New York took advantage of a missed call. The Mets led 3-1 in the fifth when the Reds loaded the bases with one out. Austin Kearns then hit a high fly to left field. The ball hit about three feet above outfielder Timo Perez, caromed off the wall and bounced right into his glove. The play was ruled a catch, and Perez threw back to second base to double off Todd Walker.
The umpires were a man short because plate umpire Bill Miller left an inning earlier with an injured ankle.
Pirates 12, Cardinals 9
Pittsburgh Rob Mackowiak hit a two-run pinch homer in the seventh after Pittsburgh squandered a five-run lead built on Adam Hyzdu's grand slam. The Pirates, winning for the seventh time in nine games, led 8-3 entering the seventh before the Cardinals tied it with five runs. Pinch-hitter Miguel Cairo and Eli Marrero each had two-run doubles.
The Pirates regained the lead against Dave Veres (3-6).
Rockies 9, Brewers 5
Denver Todd Hollandsworth and Gary Bennett drove in three runs each, and Shawn Chacon won at home for the first time in nearly three months as Colorado beat Milwaukee. Colorado has won four of six after losing four straight.
The Brewers lost their fifth straight. Milwaukee is 1-8 since the All-Star break.
Padres 6, Diamondbacks 1
San Diego Ryan Klesko had a triple and double among his four hits and scored three times as San Diego beat Arizona, the Padres' fifth straight win over the defending World Series champions. The Padres won their fourth straight overall, matching their season high.
Klesko went 4-for-4. Bubba Trammell was 3-for-3 with three RBIs.
Bobby Jones (6-5) won for the third time in four decisions and for the second time against Arizona this year.
Miguel Batista (4-7) lost his fourth straight decision.
Braves 4, Phillies 1
Philadelphia Damian Moss pitched six strong innings and Andruw Jones homered as Atlanta won its fourth straight game. The Braves, who lead the NL East by 121â2 games, have won 21 of their last 27 games.
Chipper Jones had two hits and two runs scored, and Gary Sheffield doubled to reach base for his 45th straight game.
Moss (5-4) allowed one run unearned and five hits in six innings to win for the first time in five appearances since June 22. Atlanta's pitching staff has allowed just one earned run in its last 39 innings, a 0.23 ERA.
Chris Hammond and Mike Remlinger each pitched a scoreless inning before John Smoltz finished for his major league-leading 35th save.
Brandon Duckworth (5-8) has lost three straight starts.
After a 2-hour, 45-minute rain delay at the start, Andruw Jones gave Atlanta a 1-0 lead in the second inning with his 21st homer.
Copyright 2018 The Associated Press. All rights reserved. This material may not be published, broadcast, rewritten or redistributed. We strive to uphold our values for every story published.