Los Angeles — A white police officer videotaped punching a black teenager during an arrest has been indicted for assault, his lawyer said Wednesday night.
Inglewood Officer Jeremy Morse will surrender this morning to face a charge of assault under color of authority, said lawyer John D. Barnett.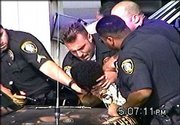 An amateur cameraman taped Morse July 6 slamming 16-year-old Donovan Jackson onto the trunk of a squad car and then punching him in the head.
Morse has been placed on paid leave pending the outcome of federal, state and local investigations.
"My client believes that an impartial jury will find that the use of force was necessary and he will be acquitted," Barnett said.
The incident has prompted comparisons to the 1992 Rodney King beating and sparked numerous protests led by civil rights activists.
The videotape was made by bystander Mitchell Crooks. The tape shows Morse lifting a handcuffed Jackson to his feet and slamming the teen's face into a car. Morse, who has a streak of blood next to his ear, then strikes Jackson on the face with his fist.
Crooks was staying in a motel across the street from a gas station where Los Angeles County sheriff's deputies had stopped Jackson and his father, Coby Chavis, because the car they were in had expired vehicle tags.
Inglewood officers had arrived to aid the deputies as Chavis was being questioned in the city on the edge of Los Angeles.
Morse said in a police report that Jackson was arrested after he struggled with officers, scratched Morse above his ear and grabbed the officer's testicles after being handcuffed. Morse was in "extreme pain" and punched Jackson to make him let go, according to the report.
Jackson has sued the city of Inglewood, four of its officers, Los Angeles County and three sheriff's deputies. His federal lawsuit seeks unspecified damages.
Crooks was arrested last week on an unrelated warrant after prosecutors sought his testimony before a grand jury investigating the Inglewood arrest. Prosecutors refused to say whether Crooks testified before starting to serve a seven-month sentence for driving under the influence, hit and run, and petty theft.
Copyright 2018 The Associated Press. All rights reserved. This material may not be published, broadcast, rewritten or redistributed. We strive to uphold our values for every story published.