Thanks in part to his 30-year head start, there's no disputing that Charles McAtee has more experience than his two rivals for the Republican nomination for Kansas attorney general.
But despite his foot-long rmMcAtee is the candidate voters are least likely to have heard about when they go to the polls Aug. 6.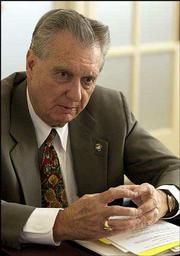 The 74-year-old Topeka lawyer is a Marine combat veteran. He was an FBI agent when J. Edgar Hoover ran the agency. As head of the Kansas prison system from 1964 to 1969, McAtee oversaw the state's last four legal hangings, including those of Perry Smith and Richard Hickock, the Clutter family killers made famous by the book and movie "In Cold Blood."
McAtee said the real executioner whose identity has never been revealed looked the part better than the one in the movie.
"The real executioner had a black beard, a black coat, a black hat, all you could want in an executioner," McAtee recalled. "With those black, beady eyes, he was what an executioner should look like."
McAtee then moved on to his second stint as an assistant U.S. District Attorney.
Railroad attorney
For many years, while associated with Eidson, Lewis, Porter & Haynes one the state's oldest and more distinguished law firms McAtee was the chief attorney for the Union Pacific railroad in Kansas. The history of that firm, that railroad and this state were inextricable until the firm "disintegrated" in 1989.
McAtee, still apparently regretful, blamed the dissolution on the "avarice and greed" of "young pups."
"That was a great firm," McAtee said. "We had a library second only to the Supreme Court library."
McAtee said one of his friends observed that during the course of his long legal career he had probably logged more time in courthouse rest rooms than his opponents had before judges and juries.
"But I won't use my opponents' youth and inexperience against them," the 74-year-old Topeka lawyer said, lifting a line made famous by Ronald Reagan.
Martindale-Hubbell, a national lawyer directory, rates McAtee's legal abilities as "very high to preeminent."
But political handicappers rank his chances in the primary low. McAtee will surprise the political experts and perhaps himself if he is elected. He is running a quiet campaign. He's not raising money or buying expensive TV, radio or newspaper ads.
"I'm not cheap; I'm just Scotch," McAtee said.
No typical campaign
Unlike his opponents, who are devoting virtually every waking moment to their races, McAtee campaigns to suit himself.
While his rivals were taking advantage of the July Fourth holiday to hit parades and patriotic hoedowns along the Kansas campaign trail, McAtee and his wife, Norma Badgley-McAtee, a former court reporter, were in New York City so he could attend a reunion of the 1st Marine Division, a veterans group for which he serves as counsel. The McAtees also took in a couple of Broadway shows.
"I will not run the typical campaign," McAtee explains in the literature he hands out to news reporters. "First, I am actively practicing law and will continue to do so, inasmuch as I have obligations and bills to pay, just as does every other tax-paying Kansan. Thus my time on the campaign trail will be minimal. I will participate in forums and debates when my time and schedule permit."
McAtee said even if he lost, he wanted his campaign to have reminded people that "qualifications are more important than glitz."
He said he also hoped his involvement would elevate the tone of the primary cycle, which his opponents Phill Kline and David Adkins have spent sniping at each other.
'He's a character'
McAtee has admirers who won't vote for him for various reasons. Some say it would be a wasted vote because he doesn't stand a chance of beating Adkins or Kline, and they'd rather have a role in swinging the balance between the two younger men.
Or there's the party thing.
Born: July 8, 1928, in MahaskaFamily: Married to Norma Badgley-McAtee; one son, one stepdaughter, one stepson, two stepgrandchildren.Religion: Methodist, no particular congregation.Education: Mahaska High School, 1946; AB degree Washburn University, 1950; law degree, Washburn University, 1955.Occupation: Lawyer, farmerPolitical and governmental experience: Special Agent, Federal Bureau of Investigation, 1955-59; Assistant U.S. Attorney, District of Kansas, 1960-61; pardon and parole attorney and administrative assistant to the governor of Kansas, 1961-64. Director of Penal Institutions, 1964-69; First Assistant U.S. District Attorney, District of Kansas, 1969-70.Military: Active duty U.S. Marine Corps, 1950-53; Platoon Leader 3rd Platoon, George Company, 3rd Battalion, 7th Marine Regiment, 1st Marine Division. Graduate of U.S. Army chemical, biological and radiological warfare school, Fort McClellan, Ala., 1953.
"He's a nice guy, well qualified. If I was a Republican, I'd vote for him, but I'm a Democrat," said former Atty. Gen. Vern Miller.
McAtee is a weaver of yarns with a prodigious memory, and it is easy after a short time in his presence to imagine him beguiling or persuading a jury.
"He's a character," said Ed Collister, a Lawrence attorney who once worked in the Attorney General's Office under Kent Frizzell and then Vern Miller.
If McAtee could swap stories for votes, he would win by a landslide.
He tells a good one about the Beacon of Hope Chapel Choir that he took on the road when he was director of penal institutions, which is what the secretary of the Kansas Department of Corrections was once called.
"I got to tell you, some of the nicest people I ever met in my life were serving in Kansas penitentiaries," McAtee said. "When I was director, we did some things that were never done before and will never be done again. We put the Beacon of Hope Chapel Choir, the prison choir, all inmates three were serving life sentences for first-degree murder on a bus and did a tour of the state. CBS came out, and we made the nationwide evening news."
'Better class of criminal'
The inmates would sing to the audiences usually schoolchildren in assemblies and intersperse their songs with personal accounts of how they got in trouble and how they wished they hadn't.
"These guys sang like angels," McAtee recalled. "They brought the house down. We sang to about 110,000 people, and it was always sponsored by local Jaycees. It was a plan I put together with the Jaycees. I loved the choir, and I wanted the public to hear them."
McAtee also took a prison baseball team to the National Baseball Congress tournament in Wichita for three consecutive years.
"We had a pitcher, Fireball Jackson, who set a record at the National Baseball Congress," McAtee said. "He struck out 19 batters. He was great."
McAtee said it's unlikely Kansas prison inmates will ever be allowed to do those sorts of things again.
"We had a better class of criminal back then," he said.
Copyright 2018 The Lawrence Journal-World. All rights reserved. This material may not be published, broadcast, rewritten or redistributed. We strive to uphold our values for every story published.