For swimmers too young to have a team at school, U.S. Swimming clubs such as the Lawrence Aquahawks and events like the Roger Hill Invitational provide important practice and competition.
Some of that early experience paid off Saturday at the Lawrence Indoor Aquatic Center for 10-year-old Heather Clark, who won the 9-10 girls 100-meter breaststroke and 100 butterfly and finished second in the 50 freestyle.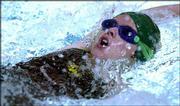 Clark became involved with the Aquahawks five years ago after her sister swam in a summer league.
"It helps because you know what to expect in high school," she said.
Kristen Karlin, 12, also sees the benefits of practicing six days a week and swimming competitively at an early age.
"You're better than everyone else in high school, kind of, because you've had more experience," said Karlin, whose older sister Katelin swam with the Aquahawks about seven years. "It's worth the time because it helps keep you healthy."
Although high school is on the horizon scholastically for the young swimmers, some may be setting their sights a bit higher when it comes to competition.
"Some of our really good kids don't look at high school as a main goal," Aquahawks age-groups coach Mike Soderling said. "They look more toward Olympic trials and U.S. nationals and the U.S. Open and keep to the USA Swimming track. Others have the experience when they're younger, and then when they get to high school that's what they want to do."
Soderling, who rejoined the Aquahawks coaching staff in 1998 after working with the team in 1993 and 1994, said he enjoyed coaching the younger participants and helping them develop.
"I like to teach," he said, "and I like how rapid the improvement is. I think the age-group coaches in America have the most important positions because we're developing the kids through senior level (age 15 and up) swimming. If they go in with good technique and a good understanding of the sport, then they're going to be that much better when they're in that group.
Like Karlin, 12-year-old Alex Boyer said he enjoyed the experience gained by swimming before reaching the senior level and said he didn't mind giving up some of his free time to go through training.
"It's good to get stronger when you're younger," he said, "and then be really strong in high school. It's just a big advantage, and it's something to pass the time. Otherwise, I'd sleep in until 10 a.m. instead of 5:30 a.m.
"You make good friends, and most of the ones you'd want to do something with on the weekends are at the swim meet anyway, because nobody wants to do anything in the morning. They're probably sleeping."
On the more experienced side, Andrea Hemphill led the Aquahawks on Saturday.
The recent Lawrence High graduate, who's headed to the University of Iowa this fall, won the senior 200 fly, beating teammate Megan Little by nearly eight seconds.
Hemphill also placed fourth in the 50 free and ninth in the 200 free.
Jill Courtney and Ashley Robinson also picked up victories in the 13-14 age group for the Aquahawks.
Courtney won the 200 fly, and Robinson won the 400 individual medley in a time of 5:16.03.
"My best time is a 5:12," she said, "so it wasn't too far off. It was a little disappointed with my butterfly, though."
Johnathan Schmidt had the lone boys victory for the Aquahawks, winning the 200 fly by 2 1/2 seconds over Kyle Kearbey of the Jasper County (Mo.) Killer Whales.
"I thought we did pretty well," Aquahawks head coach Brian Barnes said. "We had some great 9 and 10 swims, and the 11-12 age group saw a lot of improvement. Collectively, we were pretty good."
After finishing 17th in Friday's senior 800 free, Kansas University's Kristen Johnson rebounded to win the senior 100 breast by nearly five seconds.
The invitational wraps up today at the aquatic center. The 9-10 and 11-12 groups begin at 8:15 a.m., and the 13-14 and senior divisions begin at 2:15 p.m.
Copyright 2018 The Lawrence Journal-World. All rights reserved. This material may not be published, broadcast, rewritten or redistributed. We strive to uphold our values for every story published.