San Jose, Calif. — Students are graduating with bigger loan bills than ever, turning what should be a foundation for higher lifetime earnings into a financial straitjacket that could take years or even decades to escape.
A new study says seniors at public four-year universities owe an average of almost $13,000 in student loans a figure that runs even higher for those who earn advanced degrees. Those figures aren't the full picture, however, because students also are graduating with thousands of dollars in credit-card debt charging sharply higher interest rates.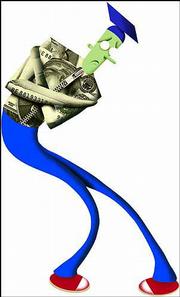 The burden of student loans is especially onerous for low-income students and those who attend beauty colleges, truck-driving schools and other vocational programs. It's worst for students who drop out with hefty student loans but can't cash in on the higher incomes generally associated with a college degree.
Some experts worry that debt could deepen further during the recession as workers stream back to the classroom to learn new skills.
As a rule of thumb, debtors tend to struggle once their student-loan payments equal 8 percent of their gross income. Students have strapped on so much debt that at least one of every six students who earns a bachelor's degree this year will owe at least 10 percent of their gross income, estimates Jerry S. Davis, vice president of research for the Lumina Foundation of Education in Indianapolis.
"They're headed for Default City," warned Davis, who tells students that staying below that 8 percent benchmark means they need to earn roughly $1,700 annually for every $1,000 they owe. "It's very difficult to handle that much of a repayment."
Student shares story
Karla Santamaria, 31, can only wish she had it so easy. Three years ago, she dropped out halfway through medical school at Wake Forest University owing about $60,000 in student loans. Today, her loans gobble 20 percent of her paycheck from nonprofit El Concilio of San Mateo County (Calif.), where she oversees bilingual education programs on chronic diseases such as diabetes.
"Interest accrues as I sleep and breathe," said Santamaria, whose family "lost everything" when they fled from the Salvadoran war when she was 10. Her parents could afford to help pay only for her first year at the University of California.
Santamaria figures she could have repaid her student loans in about 10 years if she had secured her medical degree. By following her heart into the nonprofit sector, however, she fears she might still be repaying her student loans when she's nearly 50.
Trend is worrisome
The idea that college is expensive is hardly new. But recent studies indicate that how Americans pay those bills is changing dramatically and the long-term implications worry experts.
"We may be building ... an overreliance on loans," said Patrick M. Callan, president of the National Center for Public Policy and Higher Education, a San Jose, Calif.-based education think tank that recently released a study titled "Losing Ground." "A lot of kids will be paying their own loans when their kids are starting college. This thing has all kinds of down-the-road implications."
Among the findings in "Losing Ground" and a November study by the American Council on Education:
l The number of students taking out loans and the amount they have borrowed more than doubled from 1990 to 2000. Loan volume spiked 50 percent in just the two years after Congress raised loan limits and opened up unsubsidized loans to all students regardless of income in 1992. Up until the 1990s, loans accounted for less than half of all federal financial aid. By 2000, loans accounted for 58 percent.
l The majority of students graduated with student-loan debt in 1999-2000, including more than 60 percent of those who earned a bachelor's degree.
l The average loan debt has climbed to nearly $13,000 for seniors at four-year public schools, according to "Losing Ground." But debts are higher for students chasing advanced degrees, the American Council says. Those who earned a master's degree accumulated $17,341 at public universities and $24,409 at private schools in 1999-2000. MBA students borrowed the most: an average of $28,520.
l The biggest burden is on low-income students and their parents, even though they tend to borrow less and attend less expensive community colleges and vocational schools. Seniors from the poorest one-fourth of families owe an average of $12,888, up from $7,629 in 1990 a 69 percent increase.
For the poorest one-fifth of students, not counting loans or grants, tuition would gobble 12 percent of family income for community college, 25 percent at a four-year public school and more than 110 percent for a four-year private school. That's double the family burden in 1980.
Students dig deeper hole
As heavy as student-loan debt is, many experts worry that the debt straitjacket actually is much tighter. Record numbers of students are leaving school with credit-card debt, too.
Taking its first measure of credit-card debt, the Education Department concluded that most students now pack plastic, and nearly half carry balances that ring up interest charges every month. Undergraduate students who are dependents owe an average of $1,600. Students who are on their own owe $2,200, while graduate and professional students owe $3,900.
Many students are digging the hole deeper by charging college expenses rather than taking out low-rate student loans, said Jacqueline King, the director of policy analysis for the American Council on Education.
Debt leads to other woes
The effect of credit-card debt extends beyond the monthly interest charges. Today, 80 percent of students hold down jobs, and undergraduate students typically are working 25 hours a week. Working helps pay the bills, but it also forces many students to cut back their course loads and stay in school longer. That leads to more tuition bills and more student loans.
The prospect of graduating with student-loan and credit-card debt is too scary for some students. Instead, they pick less expensive schools and choose careers that either don't require advanced degrees or that pay higher salaries.
Yelile Saca says she isn't going to let debt dissuade her, however. The 22-year-old woman graduated from UC-Berkeley last May with $8,000 in student loans and $5,400 of credit-card debt. Currently living with her parents as she splits her time between school and a part-time job to pay off her credit-card debt, Saca aims to earn a master's and then pursue a medical degree.
"I've convinced myself that I will walk away with $100,000 of debt," said Saca, who considers a college education "one of the most worthwhile investments you can make." One dream is to open a clinic in a low-income neighborhood and thereby qualify for loan forgiveness.
Failing that, though, Saca must earn a starting salary of $170,000 to comfortably manage $100,000 of student loans, according to Jerry Davis's rule of thumb.
"That's a joke," Saca said. "That's about as likely as my marrying rich."
Copyright 2018 The Lawrence Journal-World. All rights reserved. This material may not be published, broadcast, rewritten or redistributed. We strive to uphold our values for every story published.