Burdick — First there was Alf Landon and then his daughter, Nancy Kassebaum Baker. Now comes the third generation in search of a place on the Kansas political stage.
Bill Kassebaum, son of the former U.S. senator, is a cattle rancher, lawyer and assistant Morris County attorney in Council Grove.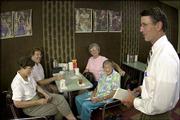 He grew up around Republican politics but never thought much about making it a career.
"I enjoy the life of running the ranch, practicing a little bit of law and being with the family, but there is a civic responsibility we all need to take," Kassebaum said.
That civic responsibility, he added, can take many shapes. For him, it was the decision to challenge House Majority Leader Shari Weber of Herington in the Aug. 6 GOP primary.
"I have been disappointed with the Legislature and how they have been handling the issues for the past couple of years, especially my elected representative," he said.
As for challenging a fellow Republican, Kassebaum said, "It's not something you take on lightly."
After all, his grandfather and mother are considered somewhere between icons and legends by many Kansas Republicans.
Moderate vs. conservative
Landon was governor and presidential candidate in the 1930s, and later an elder statesman who advised party leaders for decades.
Kassebaum Baker was a senator from 1979 to 1997 and left a legacy of an independent, thoughtful moderate known for her integrity and gentility.
First elected in 1994, Weber has represented the district that includes Morris County and most of Dickinson County, including Abilene.
Weber said her priorities include education, public safety, children's care and economic issues dealing with agriculture, tourism and small businesses.
Some see it as a contest between moderate and conservative Republicans.
"It could be moderate taking on conservative. It could be wanting to work on issues to his liking. It could be his upbringing," she said. "He certainly came from a family involved in elections and public service."
Two years ago, Weber was re-elected without opposition. This year, she is having to work.
"This will keep me in the district and I will be out every day campaigning," said Weber, known a tenacious campaigner.
Weber said her opponent's name doesn't bother her.
"Being a legislator from the area for the last eight years, I believe I have name recognition," she said. "I believe it's a washout."
Whoever wins the GOP primary faces Democrat Susan Mulryan of Dwight in the November election in the Republican-rich district.
'A hard decision'
In this tiny Flint Hills community that Kassebaum calls home, Marilyn Hageberg operates the meat market and grocery and knows both candidates.
"Bill is a neat guy to be around and he's got a nice family," Hageberg said.
But she doesn't dismiss Weber.
"She's a good lady and it's going to be a hard decision for me when it comes to voting," Hageberg said.
Just how much of a factor is the Kassebaum name?
"Obviously in a local race, it takes you some of the way, but not the whole way. You can't just run on your name," said Burdett Loomis, a Kansas University political science professor.
Kassebaum said he wasn't just running on the name.
"I don't want people voting for me because they thought Grandfather or Mom did a good job," he said. "Being an effective politician isn't a genetic trait. But that's my last name. If it was Smith, I would be running."
Using the name
Even so, there is a family reference in one of his slogans: "A fresh voice with a legacy of fairness."
Kassebaum said he talks weekly with his mother, who is in Tokyo with her husband, U.S. Ambassador Howard Baker. But he said she wasn't calling the shots in his campaign.
"It would be much better organized if she was running it," he said.
Kassebaum said his mother would return home to her ranch near his in late July for vacation just in time to help the campaign.
"I am going to see if I get her out on the campaign trail. We are going to try to do some social thing to get people out and get them excited," he said.
Kassebaum said a key issue is public education. Though not his choice, he sees little option other than raising taxes or cutting state services.
"We are going to have to raise taxes. Now that's a vote-getter, isn't it," he said with a laugh.
Copyright 2018 The Associated Press. All rights reserved. This material may not be published, broadcast, rewritten or redistributed. We strive to uphold our values for every story published.