KANSAS CITY, KAN. — Eddie Cheever Jr. politely answered the question posed to him Thursday during a news conference with local media members at the Kansas Speedway.
Asked why he was racing in Sunday's Indy Racing League Ameristar Casino Indy 200, Cheever said all the right things about why he liked the 1.5-mile oval track in Wyandotte County.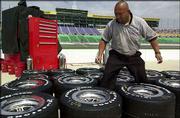 He talked about how the facility was state of the art, the people putting on the race couldn't be friendlier and the Midwest was becoming a hot spot for open-wheel racing.
But then came the real answer: "Because I won here," he said.
Now, one long year later, Cheever hasn't found himself in victory lane since that inaugural win at the Speedway last July, and he surely would take a repeat performance Sunday to get a spark going.
"I was reading a statistic of the greatest baseball hitters," Cheever said, "of how many times they had to swing before they actually hit the ball, and that's what I feel like.
"I feel like I've been going for the wins and in going for the wins we're risking a lot every weekend."
And every weekend it seems like something has gone wrong sometimes terribly wrong, like when Cheever recently had to leave in an ambulance.
Cheever, who has raced in more Formula One Grand Prix events than any other American, has finished in the top five on the IRL circuit only once all season.
But Cheever, who is currently 11th in the points standings, said he is eternally optimistic.
"I'm sure this weekend is going to be the weekend, just like I was sure Indy was going to be the weekend," he said.
Cheever said he's had a fast car all season, which makes things even more frustrating.
"It's not a slow car, that's the worst thing in the world," he said. "Having a slow car is like having a hunting dog that can't sniff they just don't go together."
The IRL's first-ever driver/owner said that the league has gotten tougher every year, but has reached a new level of competition this season with the emergence of Team Penske.
"It's been pretty constant until this year," Cheever said. "Obviously when you have a team coming in with that kind of unlimited resources, it stretches the parity in the sport and the bar has been raised more this year than any other year."
Cheever also said he thinks the IRL could expand its image much like NASCAR has if it marketed the drivers more than the cars.
"I love NASCAR," he said. "It's had a consistency of marketing its drivers over the last 30 years.
"I watched every Daytona 500 until (Dale) Earnhardt died, and I watched that one race because I wanted to see what he got away with."
Cheever said now there is even more marketing than ever.
"Now with NASCAR, if I put my mind to it, I could probably tell you what (Dale) Earnhardt Jr. had for breakfast, because there was probably a TV show that showed it," he said.
While the victories have been lacking lately, Cheever had no trouble reflecting on what he said was one the biggest victories of his career winning the 1998 Indianapolis 500.
"Being an American, that was always one of my dream races to win and having competed in it numerous times and winning once was a dream," he said. "Plus I had just gone though a divorce that year and it did improve my marketability."
Cheever, known for his wit, is as optimistic about Sunday's race as the others before, and he said winning at the IRL level is a tough thing to do.
"You can't have any mistakes out there, or you won't have a chance," Cheever said. "We'll have to go out there and have a near perfect race if we want to win it."
Copyright 2018 The Lawrence Journal-World. All rights reserved. This material may not be published, broadcast, rewritten or redistributed. We strive to uphold our values for every story published.