Lindsay Eplee and her friends were on a mission to find the best type of makeshift sled.
They slid down Kansas University's Daisy Hill on cardboard boxes, laundry baskets, a recycling-bin lid and smuggled cafeteria trays.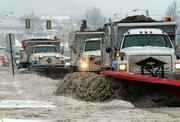 Luckily for Eplee, a KU freshman, and the other students, a rare university snow day gave them plenty of time to test their sleds.
"Is this a gift?" she said of the day off. "Yeah! I told myself I'd go study, but I went sledding instead."
With northeast Kansas coated in layers of ice and snow, much of Lawrence ground or slid to a halt Wednesday. Classes at most area schools including Lawrence public schools were canceled, and KU canceled classes for just the ninth time in 30 years. "Non-essential" KU employees were told to stay home.
Douglas County District Court and state offices were closed Wednesday, and the Legislature had its first snow day in four years.
Classes for Lawrence school district and most area districts are canceled again today.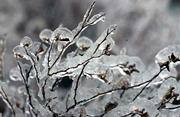 Kansas University called off today's classes just before 11 p.m. Deb Graber, a university spokeswoman, said only essential staff are required to report to work today. Baker University has canceled classes as well.
Haskell Indian Nations universities had not announced class cancellations by 11 p.m. Wednesday.
Wintry mix falls
By 9 p.m. Wednesday, 1.22 inches of rain and sleet had fallen in Lawrence, said Jim Phillips, a meteorologist with WeatherData, a private forecasting service in Wichita. Freezing rain and sleet are expected to continue until early this afternoon, when precipitation will turn to snow. Lawrence could receive 1 to 3 inches of snow by evening, Phillips said.
Lawrence street crews say they've been fighting a storm that won't seem to stop raining its icy wrath on city roadways.
"People are going to have to be patient because this is an unusual, long-duration storm," said Tom Orzulak, street maintenance manager. "There's 256 miles of streets in Lawrence. That's like from here to St. Louis. And when you plow, it's like from here to St. Louis and back because you can only get half of it at a time."
City crews had spread 173 tons of salt and 976 tons of sand/salt mixture on city streets as of noon Wednesday, Orzulak said. The division's 36 employees have been working 12-hour shifts since noon Tuesday, just before the storm began to take its toll on roads.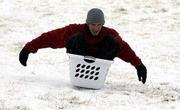 By 9 a.m. Wednesday, the city's 15 trucks had made five passes with salt or sand on all city streets. They began plowing major thoroughfares at 10 a.m. and hoped to hit at least key streets in steep neighborhoods by Wednesday night.
Other neighborhood streets might not be cleared until tonight, Orzulak said.
Orzulak asked that, when possible, residents park their vehicles off the streets so crews could do a more thorough job of clearing roadways. He also urged motorists to drive slowly to protect themselves and street crews.
"It's just as slick in that big old truck as it is in a car," he said.
Few accidents
Despite the ice storm, officials with area law enforcement agencies said they received few reports of traffic accidents overnight Tuesday or Wednesday. The Kansas Highway Patrol and Kansas Turnpike Patrol said most of the accidents troopers handled involved vehicles sliding into ditches. There were no serious injuries, dispatchers said.
"We've had a lot of motorist assists, which can be anything from a stuck vehicle to a stalled vehicle," said Lawrence Police Sgt. Mike Pattrick.
The following Lawrence institutions announced closings or cancellation of classes today by 11 p.m. Wednesday:Kansas UniversityLawrence Public SchoolsLawrence Catholic Schools (St. John's and Corpus Christi campuses)Bishop Seabury AcademyRaintree MontessoriVeritas Christian SchoolMontessori Children's HomeHead Start and Community Children's CenterGreen Pastures PreschoolBallard Community CenterThe following area schools also have called off classes for today:Baker UniversityBaldwinEudoraPerry-LecomptonDeSotoTonganoxieOskaloosaOttawaMcLouthWellsvilleGarnettLouisburgOsawatomiePaolaWest FranklinCentral Heights
In Douglas County, a Lawrence woman was injured about 6:30 p.m. Tuesday when a 1990 Jeep Cherokee slid on the ice, causing a collision with the 1994 Saturn she was driving. The accident occurred in the westbound lanes on Kansas Highway 10 near Eudora.
Mary L. Richling, 45, was taken by ambulance to Lawrence Memorial Hospital, where she was treated and released, a hospital spokeswoman said. The driver of the Jeep, Andrew Plungkhem, 19, Olathe, was not injured, the Douglas County Sheriff's Office said.
Sheriff's officers responded to several accidents Wednesday, Lt. Kathy Tate said. On eastbound K-10 near Noria Road, a pickup truck slid into a ditch but the driver was not hurt, she said. Another pickup overturned in a ditch on U.S. Highway 56 near Baldwin, but no one was injured.
If traffic accidents increase as the storm continues, Lawrence Police have shifted additional patrol officers to traffic investigations but no additional personnel are being called in, Pattrick said.
Other problems
Lawrence-Douglas County Fire & Medical had only one weather-related medical call. An elderly man shoveling snow reportedly had a heart attack and was transported to Lawrence Memorial Hospital.
At 9:45 p.m., about 500 Lawrence residents were without power, Westar Energy spokeswoman Cynthia McCarvel said. The outages, caused mostly by ice and tree damage, were spread throughout town, she said.
Another power outage around 8 p.m. affected 200 residents near the Douglas-Franklin County line. Power had been restored to all but 50 customers by 9:30 p.m., McCarvel said.
Baldwin City Administrator Larry Paine said iced-over trees and branches were falling throughout the city and causing electrical outages. He estimated that up to half of the city's 1,500 electrical customers were without power late Wednesday.
"I don't know that we'll get it all fixed until morning," Paine said, noting that workers would be out all night.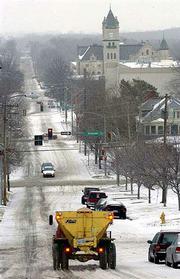 In Ottawa, the weather created a minor power outage in the morning. Scott Bird, interim co-city manager, said city crews quickly repaired a low-hanging power wire in a tree that caused a two-block power outage off Beech Street. He said the ice also weighed down the electrical wires at an individual residence, causing loss of service.
Several downed power lines also were reported in Lawrence. Fire & Medical had responded to at least 15 separate calls by 9:30 p.m. and expected the heavy ice to continue to bring down lines throughout the night.
'... nor snow, nor sleet ...'
The inclement weather shouldn't slow down local postal deliveries.
Lawrence Postmaster Bill Reynolds said the city's incoming mail from Kansas City arrived 30 to 60 minutes earlier than usual Wednesday.
Check out Lawrence and area road conditions:Kansas Road Condition Hotline: (800) 585-ROAD or visit
www.kanroad.org
Missouri road information line: (888) 275-6636 (7:30 a.m. -4 p.m. weekdays)Lawrence Street Maintenance Division: 832-3031Douglas County Public Works Department: 832-5293To report power outages, call (800) LIGHT-KS (544-4857).
"That will help offset some of the delays caused by the weather," he said. "It's not easy getting around, but I don't think it's as bad as everyone thought it would be."
However, Reynolds said Express Mail probably would be delivered a little later than usual. Overall, he said nearly every household should have received mail Wednesday except in cases where there were steep steps or hills that would make the delivery too difficult or hazardous for letter carriers.
City crews were planning to collect trash on the regular schedule today, but if they are unable to do so, collections will be made Friday. Residents or business owners with Dumpsters blocked by snow or ice should make their trash can areas accessible, said city spokeswoman Lisa Patterson.
Copyright 2018 The Lawrence Journal-World. All rights reserved. This material may not be published, broadcast, rewritten or redistributed. We strive to uphold our values for every story published.