February is Black History Month, and Lawrence has spent much of it honoring black poet and novelist Langston Hughes, a man whose life and literature touched all races.
But there is more to Lawrence black history than Hughes, said Rev. William Dulin, pastor at Calvary Church of God in Christ. And for too long, he said, the more disquieting aspects of it have been swept under the rug.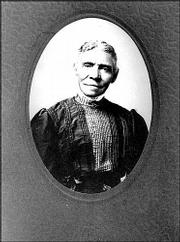 "A lot of history they don't want to talk about. They want to paint a picture that it's always been so open and loving," Dulin said of Lawrence residents who relish the city's abolitionist history without acknowledging racism existed here. "The Langston Hughes celebration has tried to redeem some of the history that they've known for a long time and never would bring to the forefront."
Bitter past
It's well known Lawrence was founded by fervent abolitionists, many of whom were ready to risk their lives to obliterate slavery. Less well known is that Lawrence, like most American cities, accepted de facto segregation well into the 20th century. For most whites, that vile period was easily forgotten once it ended. For blacks, particularly older blacks such as Dulin, the Jim Crow past remains a bitter font of recollection.
Historians commonly turn to newspapers for a sense of what everyday life before their own times was like. The state of race relations in Lawrence 90 years ago, horrifying to current sensibility, is revealed in the old newspapers.
Take this example:
In a Wednesday evening, 1910 edition of the Lawrence Daily Journal, the newspaper invited "all the children between the ages of 6 and 13" to a party in Woodland Park.
It was the first time the Journal had given a party, and editor J.L. Brady wanted it to be a great success.
But amid talk of vaudeville performances and other gaiety, a sobering reality became obvious: "All" the children referred to in the newspaper's published invitation meant all the "white" children.
"The Journal has been asked if the colored children will be in attendance. The Journal knows the colored children have no desire to attend a social event of this kind and that they will not want to go. This is purely a social affair and of course everyone in town knows what that means," the Journal article stated.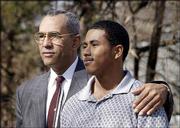 In 1910, even in a town so many abolitionist leaders had called home, racism was reality and Jim Crow was the law of the land, said Steve Jansen, historian at Watkins Community Museum of History.
"We are so kind of wedded to our free state and abolitionist heritage that we think that didn't happen here," Jansen said. "But it did happen here."
And, in subtle ways, it still happens, Dulin said.
"Now you won't see overt racism. You won't be denied service at a restaurant or access to a hotel," he said. "But behind the scenes, there's still a lot of things that are done. They won't come out and say it's because of your race."
Not so long ago
Dulin said he and his brother were the only black students in Lecompton schools in the 1940s, '50s and '60s. They were raised by their grandparents, who were but one generation removed from slavery.
"They taught us survival. They were always telling us 'Stay in your place,'" said Dulin, 59. "As a young boy, you're trying to figure out what does it mean to stay in your place."
It didn't take Dulin long to figure out what his grandparents meant. He recalled a white teacher who came to his house when he was in the fifth grade to tell Dulin's grandmother he wasn't capable of doing as well as the white children. Dulin, eavesdropping from the hallway, heard his grandmother say "I know; I know."
Life-time Lawrence resident Howard Walker recalls similar injustices in the Lawrence school system, which he went through in the 1930s and '40s.
"I've noticed now as I've gotten older that some of the teachers back then were dishonest with you," he said. "They were not giving you the proper education they were giving the other kids. They'd tell you you would never be able to do things."
When Dulin and his brother played on the Lecompton basketball team and went on bus trips, the coach would make the two boys wait on the bus for their teammates to bring them something to eat and drink because the coach wasn't sure if they'd be welcome where the team had stopped.
"Today, when I look back over that, to me, if the coach had been a man with conviction, instead of going along with the system, he would have said we all go or none of us goes," Dulin said.
Dulin also remembers being overlooked at Lawrence soda fountains where his buddies were being served.
"So I've had a few incidents in this town. I just knew that's the way it was," Dulin said. "Then, I didn't like it, but I learned to survive. Now, when I look back, I can see a lot of it was ignorance on their part. But a lot of it was hatred. I believe a lot of them knew better. In a way, you feel sorry for them because if that's the mentality they have, they're hurting."
Long gone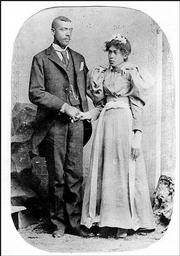 By the time Dulin returned from the service and moved here in 1968, most of the black-owned businesses he remembered from his childhood were long gone.
Most of the black businesses had been concentrated in the 600 block of Massachusetts Street, the 800 block of Vermont and what's now Ninth Street between Vermont and New Hampshire. Blacks owned pool halls, barber shops, a movie theater and restaurants, among other businesses.
"The irony is that as long as Jim Crow segregation is in place, then people are forced to trade within their race," Jansen said. "Lawrence never had a 'wrong side of the tracks', a ghetto, if you will. What they did, historically, was keep black businesses downtown on Vermont and New Hampshire streets."
Then, in the '40s, '50s and '60s, when the "parking lot movement" began, most black businesses were razed and paved over, Jansen said.
"As economic integration occurred, white-owned stores had greater economic resources and a greater ability to survive."
With the dissolution of black establishments came the disarray of black culture in Lawrence, Walker said.
"Blacks have a culture in big cities, where they don't have any in this town," he said. "Black business owners were role models. Now you don't see that or have anything to copy after."
A younger perspective
Though conditions for blacks in Lawrence have improved dramatically since Dulin was young, he still fears for his children.
In the early 1990s, his older son was crowned homecoming king. He didn't win outright; he tied with another student. His son was just happy that he was popular enough to win, but Dulin couldn't help but wonder if he tied because he was black.
Dulin's younger son, 18-year-old Daniel Dulin, said he didn't live with those kinds of doubts. He knows the pain of racial segregation only through his father's recollections. The Lawrence High School senior and his friends say stereotypes and secondhand stories about racial slurs are about the extent of racial tension at their school.
"People will say if you wear a do-rag you stand out or that you look like you're not intelligent," Daniel Dulin said. "If you would actually sit down and talk to that person, they could be a 4.0 student for all you know."
LHS junior Chris Fulton, 17, said taking the time to converse with people of different races could lay misunderstandings to rest.
"People assume like if a kid sags he's in a gang. Or if he wears a bandana, they assume he's in a gang," Fulton said. "Maybe his pants are too big and he's in a hurry to get to class."
Those kinds of stereotypes create hurdles for blacks, said 18-year-old LHS senior Richard Mumford.
"My dad tells me I've got to do as good as I can. If I don't, there's nothing for me," he said. "But there's nothing I can do about it, so there's no point in getting mad."
Talking about it
Fulton said he's been in classroom discussions about the "N" word and whether black students preferred the term black or African American.
"I don't care which one of the two it is," Fulton said. "But everyone's got a name. You should call them by it."
Which gets to the core of the issue, William Dulin said.
"We should see people as people," he said.
And we should have honest conversations about the status of race relations in Lawrence if we want them to continue to improve, Dulin said.
"The only way a town, a community, a state, a nation can ever solve its problems is it first has to admit it has a problem," he said. "If we admit we do have covert racism and we have institutionalized racism we have it, let's find out how we can honestly get rid of it."
Copyright 2018 The Lawrence Journal-World. All rights reserved. This material may not be published, broadcast, rewritten or redistributed. We strive to uphold our values for every story published.