MIAMI, FLA. — Gardening is not for sissies, but as baby boomers age, it's getting easier.
From kneepads for arthritic joints to lightweight ladders and carts for ache-prone backs, there are a growing number of gadgets to reduce wear and tear.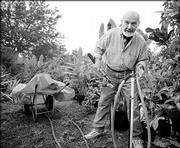 And gardeners of any age can benefit from smart techniques. For example, you can save yourself a trip to the trash pile by weeding and edging before you mow and cutting over the debris with the mower.
We asked David Bar-Zvi, curator of herbaceous plants (gingers, heliconias and such) at Fairchild Tropical Garden; David McLean, landscape designer and horticulture technology teacher at Broward Community College; and Pat Clarke, director of the southeastern district of the Florida Federation of Garden Clubs, for easy-gardening advice.
Go easy on yourself
"One of the best things I have for an investment of $15 is kneepads," Bar-Zvi says. "You strap them on. One size fits all, and you don't have to shlep them around and lose them. You can kneel anywhere in the garden."
McLean recommends making flower and ground cover beds higher than pathways for easier weeding. (Use pressure-treated wood for walls and line them with plastic, or just mound up the soil.)
Knight Ridder NewspapersEasy gardening begins at the planning stage. Landscape architect Raymond Jungles offers these tips:Take a good look at gardens in your neighborhood to see what grows well. "You probably will have the same soil or rock conditions, and you can see what thrives under those conditions."Know your plants, their needs and growth characteristics. "You don't want to plant something you like at eight feet when it eventually will reach 40 feet." Research the sun, shade and moisture requirements. "Put the right plant in the right place and you can avoid the unnecessary energy of pruning.""Try to use things that don't need a lot of spraying and fertilizing. I like native plants, such as thatch palms and saw palmettos, native shrubs ... there are so many great natives out there."
A plastic crate, available in office supply and container stores, makes a good moveable seat when working in those flower beds. Or turn it right side up and use it as a tote for big weeds (little ones will fall through the bottom).
There's also a wheeled gardening seat on the market, Clarke says, that you can scoot along as you weed or pull like a little wagon.
A child's red wagon makes a handy cart for hauling hand tools, bags of fertilizer or mulch or potted palms to be planted. It's also great to take to plant sales.
McLean suggests pruning more often so you have less to drag to the trash pile. When possible, cut the debris into small pieces and leave it to act as mulch.
If using a wheelbarrow to haul away trimmings, make sure it's a nontip variety with fail-safe wheels or a brace on the front. Better yet, use a garden cart, which has higher handles for less back strain.
If you have tall trees and plants to prune and chop, McLean suggests constructing your own long, four-wheeled dolly with wheels beneath the cart base and removable sides of one-by-fours. The one-by-fours can be pulled out and the cart tipped sideways for emptying.
Clarke likes a collapsible cart that "is lightweight and takes up no space when folded" but is roomy when open.
Speaking of lightweight, use soilless planting medium for your container plants. When repotting, put a bag of it in your nontip wheelbarrow for easy reaching. If you don't have a potting bench a good investment for relieving backaches and organizing garden clutter place a wide board across the wheelbarrow as a work shelf.
It's tool time
Keeping track of hand tools can be a challenge. Who hasn't spent valuable time retracing steps or dismantling the garden shed in search of a lost pruner or trowel?
Bar-Zvi's solution is to paint the handles blue. Or, he says, invest in a bucket apron. These fit around a bucket and have pockets for implements. You can carry tools along with fertilizer or other supplies. "If tools have a home when they're not in use, that makes a difference."
Bypass pruners are excellent for avoiding injury to plant stems, but ratchet anvil pruners, which multiply your power with a notched wheel, can avoid pain to arthritic hands, Bar-Zvi says. Choose loppers of light aluminum for easy maneuvering.
A lightweight aluminum ladder is a smart choice, too.
Choosing the right shovel for the job is important. For digging, Bar-Zvi suggests a heavy, pointed shovel (it may cost $50 or more).
For unloading wheelbarrows or spreading fertilizer, McLean likes a narrow, flat-ended trenching shovel. A full-sized planting or irrigation shovel or a pony shovel "makes digging easier because it cuts straight down," he says.
A power sprayer can eliminate the sore arm muscles and lower back pain brought on by fertilizing with a pump device. The Black & Decker Cordless Power Sprayer holds 3 1/2 gallons and rests on wheels, with an adjustable handle. An excellent spray nozzle directs hard sprays or clouds of mist, and the batteries last through several tank refills.
Using common sense
As with most tasks, common sense may be the most important tool for easy gardening.
"Listen to your back," McLean says. "It will warn you when fatigue is setting in. In view of this, have benches and chairs with backs scattered through the yard."
And wear a watch or put a clock where you can see it.
"Most of us addicted gardeners work past our capacity," McLean said. "Work for an hour, then stop for a drink and seated rest."
Wear strong shoes for foot support and protection, not plastic garden clogs or worn-out sneakers. (Hiking boots are excellent.)
Don't dig in rock, says McLean. "Put soil mix over rock. Use a 90-10 mix of silica sand/muck soil and build up the bed to a depth of 8 to 12 inches."
When purchasing soil, mulch and other heavy garden supplies, have them delivered. Or put a platform in your car trunk so you can slip supplies out more easily into a waiting garden cart.
Copyright 2018 The Lawrence Journal-World. All rights reserved. This material may not be published, broadcast, rewritten or redistributed. We strive to uphold our values for every story published.