Topeka — Testimony from a 16-year-old southeast Kansas girl helped move the Senate Judiciary Committee to endorse a bill Monday ending common law marriage.
Sara Shelton, of Buffalo, told of giving birth to two children by a family acquaintance by age 14. Jerry Paul Crooks Jr. was convicted of rape and sentenced to 25 years but claimed during his trial that they had a common law marriage.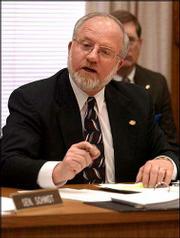 Her case led Sen. Dwayne Umbarger to advocate legislation invalidating common law marriages entered into after June 30 of this year.
"I don't see that we need common law marriages today," said Umbarger, R-Thayer, who serves on the Senate Judiciary Committee.
Both Umbarger and Sen. Derek Schmidt, R-Independence, said Shelton's case brought the issue to their attention.
Common law marriages, which require no marriage certificate, have been recognized in Kansas since at least 1886, when the Supreme Court upheld a Shawnee County man's bigamy conviction based on the law.
Only the District of Columbia and seven other states still recognize such marriages Alabama, Colorado, Iowa, Montana, Pennsylvania, Rhode Island and South Carolina.
Tradition makes some legislators hesitate to ban the practice.
The House Judiciary Committee has a bill that would require a parent, guardian or judge's approval if one of the parties to a prospective common law marriage is under 18.
House Judiciary Chairman Mike O'Neal, R-Hutchinson, said common law marriages give partners, particularly women, property rights should those relationships end.
"I would be reluctant to completely end it," he said of the practice. "Our bill modernizes it."
Sen. Ed Pugh, R-Wamego, raised the property issue Monday in the Senate committee's discussion, then voted against endorsing the bill.
Since 1913, Kansas courts have declared the common law age of consent for marriage is 14 for boys and 12 for girls, and that they do not need the permission of their parents or guardians. Also, courts have said a common law marriage is valid if the partners are able to marry and live together as a married couple even only briefly.
Shelton told legislators she was 10 when Crooks, then living with her family in Texas, began having sex with her. She became pregnant, gave birth to a boy and put him up for adoption.
Later, while Crooks was living in Wichita, the family moved to Augusta, she said, and Crooks became a frequent visitor at their home. In 1999, at 13, she became pregnant again and had a second son, and Crooks was arrested for rape.
Now living with her son in a Buffalo foster home, Shelton said she worried during Crooks' trial that his claim of a common law marriage would give him access to the boy.
She said he might have convinced a jury had she said she wanted to be married.
Common law marriage bills are SB 486 and HB 2366.
Copyright 2018 The Associated Press. All rights reserved. This material may not be published, broadcast, rewritten or redistributed. We strive to uphold our values for every story published.