Last time Free State High's girls basketball team played, Lauren Wright had a career-game as she set the school record for three-pointers with seven and scored 23 points.
Not Friday.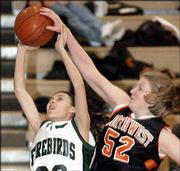 The senior shooter scored only four points.
But it wouldn't have mattered if Wright, Free State's leading scorer, had scored 30 points Friday night. Shawnee Mission Northwest blew out Free State, 61-25, at FSHS.
"It was the kind of night where everything that could've gone wrong did," said Free State coach Craig Hershiser. "When you compound that with as good of a team that Shawnee Mission Northwest is, then it's one tough night."
It sure was for the Firebirds.
SMNW flew out of the gates with a 9-0 run to start the game and never looked back. The Cougars shot 50 percent from the field and outrebounded the Firebirds 45-27.
Northwest led 18-5 after the first quarter, held the Firebirds to only five more points in the second quarter and led by 23 points, 33-10, at halftime.
SMNW senior guard Jayme Wilson, who scored a game-high 20 points, outscored the Firebirds 12-10 by herself in the half. But her play was even more impressive on the defensive side, as she locked up Wright, who got off only one long three-point attempt in the first 16 minutes.
"She did a great job on both ends," said SMNW coach John Reiff. "She's a D-I player and showed tonight that we're going to miss her immensely next year. She makes us go."
But the Cougars weren't solely dependent on Wilson. SMNW's bench outscored the Firebirds 12-10 in the first half.
Things didn't improve in the second half for Free State, as SMNW hit its first three shots while Free State missed its first 11.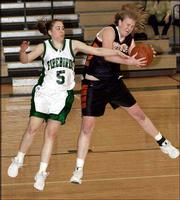 By the time FSHS's Kirby Beneventi hit the team's first field goal, a midrange jumper with a little more than 10 seconds left in the third, Free State trailed by 34.
Free State actually outplayed SMNW in the fourth, but by then it was way too late.
"They (SMNW) played great defense," Wright said. "We didn't do what we needed to do, and when we don't do that we're not going to win."
Free State was led by Jamie Stanclift's nine points while SMNW's Mandy Smith and Meghan Blay scored 10 and 11 points respectively.
Shawnee Mission Northwest 61, Free State 25
FREE STATE (25)
Lauren Wright 1-8 2-4 4, Ramona Daney 0-3 1-2 1, Amber Hinton 0-6 0-3 0, Stacie Garland 1-5 1-2 3, Julie Seidel 0-3 0-0 0, Kirby Beneventi 2-7 2-2 6, Jamie Stanclift 2-10 5-5 9, Lauren Abney 1-2 0-0 2. Totals 7-44 11-18 25.
SMNW (61)
Jayme Wilson 8-13 2-3 20, Mandy Smith 5-6 1-2 11, Micaela Uriell 2-5 0-0 4, Meghan Blay 5-9 0-0 10, Katie Doran 1-6 0-0 2, Mary Beth Coyle 3-6 0-0 6, Katie Duncan 3-6 0-0 6, Beth Schilling 1-4 0-0 2, Stephanie Gerber 0-1 0-0 0, Emily Hoskins 0-0 0-0 0, Stephanie Corry 0-0 0-0 0. Totals 28-56 3-5 61.
SMNW (15-3) 18 15 17 1161
Free State (6-10) 5 5 4 1125
Three-point shooting SMNW 2-6 (Wilson 2-5, Uriell 0-1), Free State 0-9 (Wright 0-5, Garland 0-4). Fouls SMNW 9, Free State 15. Turnovers SMNW 19, Free State 20. Technicals SMNW (bench).
Copyright 2018 The Lawrence Journal-World. All rights reserved. This material may not be published, broadcast, rewritten or redistributed. We strive to uphold our values for every story published.