Washington — When President Bush travels next week to Korea's demilitarized zone, he will look through coiled razor wire at the North Korean state he condemned as part of an "axis of evil."
The provocative words in his State of the Union address heightened the drama for Bush's stop Wednesday at the heavily armed border between South Korea and the communist North. It also riled European allies who heard a go-it-alone brinkmanship in a new doctrine that Bush has yet to define with specifics.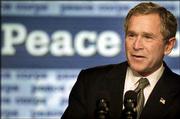 In North Korea's own neighborhood, the "axis of evil" label appears to have thrown only a small wrench into the diplomacy surrounding the trip to Japan, South Korea and China that Bush begins today.
White House officials say the president still intends to use the six-day tour, which was planned for last fall but postponed after Sept. 11, as a "celebration of alliances" in the far East and a maintenance of Asian support for his war on terrorism.
Advisers involved in the planning for Bush's meetings with Japanese Prime Minister Junichiro Koizumi, South Korean President Kim Dae-jung and Chinese President Jiang Zemin said those governments have indicated that the "axis of evil" talk does not substantively alter their own one-on-one relations with the United States.
Publicly, China frowned on the undiplomatic phraseology and its suggestion that neighboring North Korea part of the "axis" with Iraq and Iran would be a target.
"We disapprove of the use of such words in international relations," said China's Ministry of Foreign Affairs spokesman Kong Quan, warning of "serious consequences" if Bush chases his tough talk with military action.
While Bush insists on keeping his next steps "close to my vest," as he said this week, Secretary of State Colin Powell reassured partners in the anti-terror coalition that the president "has no plan on his desk right now to begin a war with any nation."
Powell said Bush was ready to talk to the North Koreans "any time, any place, anywhere, with no preconditions." When the North Korean ambassador to the United Nations, Pak Gil-yon, responded that Pyongyang was interested and "there will be no problem at all," administration officials took it as a positive effect of Bush's harder line.
Tokyo quietly winced at the prospect of anything disturbing regional stability. The nationally circulated Asahi Shimbun newspaper editorialized against Bush's Cold War-era "saber rattling."
Japanese reaction otherwise amounted to little more than a shrug. Asked about Bush's terminology, Koizumi said Japan keeps the door open to dialogue with Iraq, Iran and North Korea. "We have our own way in Japan, different from the United States," Koizumi said.
Tokyo is more interested in what Bush can do to help the struggling Japanese economy, said Naoko Munakata, a former official in Japan's Ministry of Economy.
Bush's rhetoric is the most problematic for Kim's government in Seoul, which essentially saw its "sunshine policy" toward North Korea eclipsed. After the State of the Union address, South Korean officials privately sought explanations from Secretary of State Colin Powell and National Security Adviser Condoleezza Rice.
Lho Kyongsoo, a dean at Seoul National University, said Kim's displeasure doesn't matter since he will be out of office by this time next year.
The front-runner to succeed Kim, Lee Hoi Chang, is in sync with Bush's harder line toward North Korea, said Lho.
"Everybody except the most ignorant in my country understands that sunshine hasn't worked and you're not going to cajole the North Koreans or bribe them into discussion," Lho added.
Copyright 2018 The Associated Press. All rights reserved. This material may not be published, broadcast, rewritten or redistributed. We strive to uphold our values for every story published.