The owners of a popular Latin American restaurant are hoping to cook up similar success with a Southeast Asian noodle shop and satay bar directly across the street.
Zen Zero is scheduled to open in April at 811 Mass., the former home of Lotus. The new restaurant will feature a full-service bar and a menu heavy on noodles, small kebabs of meat and other dishes popular in Tibet, Nepal, Vietnam, Thailand and Japan.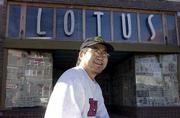 Zen Zero's co-owners are Subarna Bhattachan and Alejandro Lule, who have experience in downtown's restaurant scene. They have owned and operated La Parrilla home to rice bowls, fish tacos and other Latin American dishes for nearly three years at 814 Mass.
"We like downtown Lawrence," said Bhattachan, a Nepal native. "We think it's a great market, with lots of walk-in traffic in the retail and entertainment center of Lawrence.
"And with it right across the street, it'll be easier for us to manage instead of some place two or three or 20 miles away."
Bhattachan and Lule had been thinking about opening a second restaurant for several months, but the plan became reality when the Lotus site became available. They bought the building for about $300,000 from Rod Ernst, owner of Ernst & Sons Hardware down the street.
Lotus, a vegetarian restaurant, had been closed for months and Ernst had been trying to lease the property. But despite plenty of nibbles and at least one promising lead, no deal was closed.
"I had a lot of calls," Ernst said. "I was working with one outfit, but it didn't work out. There was a lot of interest in it."
Now Bhattachan and Lule are preparing to invest about $150,000 in restaurant equipment and another $150,000 in renovations to the building, which Ernst's grandfather had owned since 1910.
Zen Zero, with seating for about 96 patrons, will be open from 11 a.m. to 9 p.m. Sundays and Mondays, and 11 a.m. to 10 p.m. Tuesdays through Saturdays. Entrees will range in price from $8 to $10, Bhattachan said.
Featured on the menu will be wheat and rice noodles, plus a variety of curry-spiced entrees and momos, or steamed dumplings made with meats or vegetables and served with chutney.
"They're very popular in Nepal," Bhattachan said.
The new place will be the latest entry in the downtown restaurant scene. Buffalo Wild Wings recently opened its wings-and-more concept at the southern end of downtown, while Wa brought its sushi and Japanese fusion cuisine to 740 Mass.
The former home of PrairieFire, which closed in December at 724 Mass., is being used intermittently as a catering site as its owner markets the property for a local or regional restaurant.
"It would be great if Lawrence actually had a restaurant row," said Steve Wilson, who owns the building. "That would be fantastic."
Copyright 2018 The Lawrence Journal-World. All rights reserved. This material may not be published, broadcast, rewritten or redistributed. We strive to uphold our values for every story published.