Milwaukee — President Bush, back on the campaign money trail, pulled together elements of his health care agenda and presented it Monday as a plan to keep America "on the cutting edge of medicine."
Bush explained his proposals to students and faculty at the Medical College of Wisconsin before an evening of political fund raising.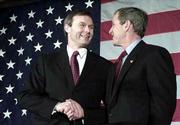 The president's appearances were expected to raise $1 million for Gov. Scott McCallum. The event had two parts: a $10,000-per-person photo session with Bush and a $1,000-per-plate dinner.
"It's amazing what standing next to somebody with a 90 percent approval rating will do for you," McCallum said.
Aides hoped the president could give a much-needed boost to McCallum, a longtime lieutenant governor who took office in February 2001 but has yet to feel the strong popularity enjoyed by his predecessor, Health and Human Services Secretary Tommy Thompson.
In addition, McCallum is feeling heat from the state's municipal leaders for his plan to phase out Wisconsin's shared revenue program by 2004, in order to counter a projected $1.1 billion budget shortfall.
Bush defended McCallum's budget decisions, saying the governor was simply trying to avoid raising taxes.
It was Bush's second fund-raising appearance in less than a week. He helped raise $1.5 million last week at receptions for New York Gov. George Pataki.
Wisconsin was one of a handful of states too close to call into the wee hours of election night 2000, and ultimately went to Vice President Al Gore by a margin of 6,000 votes.
Bush promoted a series of health care initiatives that were previously announced as part of his 2003 budget proposal, such as tax-free "medical savings accounts and $89 billion in tax credits for making private health insurance more affordable, and called on Congress to approve Medicare prescription drug coverage. Partisan disputes have stalled the measure since last year.
The president said he is close to an agreement with Congress on patients rights legislation "that protects all patients, not just a fortunate few," and decried the litigious nature of the current health insurance system.
His proposed budget includes $27.3 billion for the National Institutes of Health, which would complete a doubling of the research institution's financing that began under President Clinton.
Copyright 2018 The Associated Press. All rights reserved. This material may not be published, broadcast, rewritten or redistributed. We strive to uphold our values for every story published.