Lagos, Nigeria — When a series of explosions at an army munitions depot sent huge fireballs into the sky over the sprawling metropolis of Lagos, both Nigeria and its government were deeply shaken.
Coming on the heels of repeated outbreaks of violence that have killed thousands, the blasts prompted more anger at a government that is increasingly hard-pressed to bring security to Africa's most populous nation.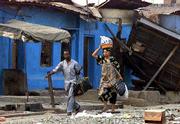 Even President Olusegun Obasanjo admits he fears for the survival of democracy in a country where the military has held sway more than twice as long as civilians.
Rival politicians are recruiting private militias in a bid to consolidate power ahead of presidential and legislative elections in 2003. Coup-prone Nigeria has never staged consecutive presidential elections successfully.
"Nigerians are praying that our preparations today, which suggest we are going to war, do not tear our nation apart," Obasanjo said at a recent forum on pre-election violence.
The wave of hope and euphoria that accompanied Obasanjo's 1999 election, which ended 15 years of often brutal military rule, has given way to frustration as one tragedy follows another in this oil-rich but impoverished country.
Public anger reached the boiling point after the unexplained explosions two weeks ago left more than 1,000 people dead many of them women and children who ran into a canal and drowned during a panicked stampede in the dark.
A subsequent police strike, the country's first, kept the city on edge. Then a minor neighborhood dispute escalated into clashes between Hausas and Yorubas, Nigeria's two largest ethnic groups, taking 100 more lives.
By the time the army was called in to restore calm, a few people were proposing a return to military rule, once an unthinkable prospect in a country where memories of army oppression remain strong.
"We have not seen the dividends of democracy that we have been promised," said Abdullahi Ahmad Saidu, a Hausa resident of Idi Araba, the neighborhood worst hit by the riots. "At least when the army was in power, we were not killing each other."
Dangers of military rule
But the army's reputation has also been shaken, with many residents seeing the armory disaster as a reminder of the dangers of military rule. The army is investigating the causes of the tragedy, but has resisted calls to make the proceedings public.
"The generals don't care if the weapons they buy with our money kill us," said Nelson Ally, a Lagos businessman. "We cannot forget the deaths they have caused."
Elsewhere in this nation of 120 million people, with 250 ethnic groups, deepening divides and fears of unrest are just as evident as in Lagos.
The Dec. 23 assassination of the country's respected justice minister, Bola Ige, stirred up divisions in the Yoruba-speaking southwest where the killing was tentatively linked to a rift between militant supporters of a state governor and his deputy.
The imposition of Islamic law, or shariah, by more than a dozen predominantly Hausa northern states has created distrust between Nigeria's Muslims and Christians.
Thousands have been killed in outbreaks of religious fighting since Obasanjo came to power most recently in the northern city of Kano, where dozens perished in clashes sparked by an anti-American protest in October.
Gathering forces
Across the country, religious and ethnic-based vigilante groups, ostensibly formed to help police fight rampant crime, have been armed and funded by local politicians seeking to consolidate power before the election.
One group, the Yoruba nationalist Odudua Peoples Congress, used automatic weapons against Hausa rivals during the latest ethnic violence in Lagos, witnesses said.
"Nigerians notice how private armies are being raised and unbelievable amounts of money are being set aside by those who plan to muscle their way into elective offices," Obasanjo warned.
Although the president recently said God will decide if he runs for re-election, supporters have started pasting up campaign posters calling for his return.
Copyright 2018 The Associated Press. All rights reserved. This material may not be published, broadcast, rewritten or redistributed. We strive to uphold our values for every story published.