Jerusalem — Israel unleashed another airstrike on Palestinian offices in Gaza City on Monday, while the defense minister declared that Palestinian militants had raised the stakes in the Mideast conflict by firing new, longer-range rockets.
The Islamic movement Hamas sent a pair of Qassam-2 rockets into southern Israel on Sunday, digging large craters in two farm fields. Israel viewed it as a serious military escalation, because rockets launched from the West Bank and Gaza could reach some Israeli cities.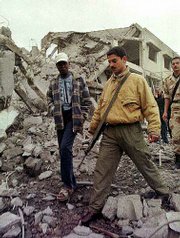 In response, Israeli warplanes fired six missiles Monday into the walled Saraya security compound in downtown Gaza City, setting buildings ablaze and sending black smoke into the sky.
More than 30 people were injured, most of them lightly, including George Kochaniec, a photographer for Denver's Rocky Mountain News. He was treated for a hand injury.
The attack came at a time of changeover between morning and afternoon shifts at nearby schools. The streets were crowded with youngsters, who raced away from the explosions, some screaming in panic.
Hundreds of Palestinians ran to the compound, demanding that suspected Islamic militants jailed there be released. Some threw stones at officers, who fired in the air to keep back the crowd. Palestinian police said all detainees were moved to another prison shortly after the Israeli attack.
In the West Bank city of Hebron on Monday, about 300 people stormed a prison and released 17 prisoners as security guards stood aside. One of the prisoners was Islamic Jihad activist Ayub Sidr. Palestinians said he was once the target of an Israeli assassination attempt.
Israel warplanes blasted a separate Gaza City security compound Sunday night near the offices of Palestinian leader Yasser Arafat.
In Washington, State Department Spokesman Richard Boucher criticized Israel's bombing in populated areas, warning that they could intensify the fighting. He also called on Palestinian leader Yasser Arafat to make efforts to stop the rocket attacks.
Copyright 2018 The Associated Press. All rights reserved. This material may not be published, broadcast, rewritten or redistributed. We strive to uphold our values for every story published.