CHAPEL HILL, N.C. — A week off worried Gary Williams. He let his third-ranked Maryland Terrapins know about it before meeting North Carolina.
"He told us North Carolina was ranked No. 1 in the country last year and they had a week off and they went to Clemson and lost," Terrapins guard Byron Mouton said following a 92-77 victory over the Tar Heels on Sunday night. "He wanted us to be mentally tough and not get into the same situation.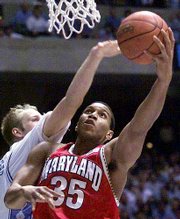 "We looked at it and said, 'Yeah, we know it's the ACC and on any given night somebody can win,"' Mouton added. "We came out prepared to get the win."
Maryland wasn't particularly sharp a week before its Atlantic Coast Conference showdown with No. 1 Duke. Then again, the Terrapins were facing a North Carolina team they beat by 33 points a month ago.
Maryland matched its best overall and ACC starts in school history, getting 18 points from Juan Dixon in the 15-point victory despite shooting just 46 percent against the worst defensive team in the ACC.
"In some areas we were rusty, but we'll just have to get back to practice and tighten things up," said Lonny Baxter, who had 16 points as did Mouton.
The Terrapins (19-3, 9-1) registered their 19th win after 22 games for the sixth time in school history. The most recent was in 1999.
The only other time Maryland won nine of its first 10 league games was 22 seasons ago.
"The reason we're so successful right now is we're more mature and we've got guys from last year who knows what it takes," Mouton said. "After the loss against Duke we didn't get down because we knew we were going to play them again back home."
The victory kept Maryland one-half game behind Duke for first place in the ACC race. The teams, each with one conference loss, meet next Sunday in College Park, Md.
Meanwhile, the Tar Heels (6-15, 2-9) matched the school record for losses in a season. It happened twice in the early 1950s.
North Carolina also set a record for ACC losses in what has been a disastrous second season for coach Matt Doherty's inexperienced team. The program's previous worst ACC season was 6-8 in Dean Smith's third season in 1963-64.
No. 10 Virginia 85, Clemson 71
Charlottesville, Va. Roger Mason Jr. scored 23 points and sparked a 15-0 second-half run to lead Virginia to victory over Clemson, snapping the Cavaliers' four-game losing streak. Travis Watson added 20 points and 10 rebounds for Virginia (15-6, 5-5 Atlantic Coast Conference).
Boston College 76, No. 12 Miami 63
Boston Troy Bell scored 24 points and Ryan Sidney added 23 points and nine rebounds as the Eagles (16-7, 5-5 Big East) beat the Hurricanes for the second time in 13 days. Uka Agbai had 12 points and 10 rebounds Boston College, which had lost five of seven, but won 70-65 on Jan. 29 at Miami.
Michigan St. 67, No. 16 Ohio St. 64
East Lansing, Mich. Marcus Taylor and Adam Ballinger each scored 18 points for the Spartans (14-9, 5-5 Big Ten), who used two 13-0 runs to knock the Buckeyes (17-5, 8-3) out of their first-place tie with Indiana. Brent Darby scored 14 points for the Buckeyes, 12 over the final 7:33.
Pittsburgh 75, No. 23 Syracuse 63
Syracuse, N.Y. Brandin Knight scored 11 of his 16 points in the final 5:34 as Pittsburgh (21-4, 9-3 Big East) overcame a 14-point deficit in the second half to win in the Carrier Dome for the first time since March 2.
Copyright 2018 The Associated Press. All rights reserved. This material may not be published, broadcast, rewritten or redistributed. We strive to uphold our values for every story published.