This is a good time to take a fresh look not only at your waistline, but also your bottom line.
Managing your finances digitally can give you more insight into where your money is going, a greater ability to move it around and improved tools for quickly reacting to new information. It also requires that you think harder about keeping your information secure.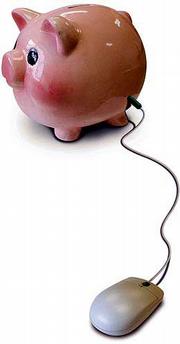 What is digital financial management?
The idea is that you can use your computer, along with software and Internet access, to aid in your planning, investing, budgeting, bill payments almost everything that affects your financial future.
If you want to take the first steps into digital financial management, all you need is an Internet-capable computer and the latest Internet Explorer or Netscape Navigator browser for surfing the Web. Any new Windows or Mac computer will be fine for this, and even most computers 4 or 5 years old will suffice.
Taking your finances digital doesn't cost much, and it can save you a lot of time and money. At the same time, it requires that you trust technology with some of your most valuable resources.
Virginia Morris, a personal finance expert, says people should not be afraid to use software and the Internet to manage their financial future.
"Dangers? I don't think that there are any more than doing it any other way," Morris said. "It's as important to banks and credit card companies that their systems are secure as it is to you. While there always can be scams, I honestly think that if you do it with care, it's as secure as getting money out of an ATM, or leaving a credit card (receipt) on a restaurant table."
In general, the more you take different aspects of your financial life digital, the more benefit you gain. In most cases, your financial institutions already house your account information on their computers, and it's just a matter of signing up to access your data over the Web.
Online banking
Price: Free.
Benefits: Access daily account information for checking, savings and other accounts. Transfer funds between these accounts quickly online. The combination of online banking and a debit card can virtually eliminate the need to balance your checkbook or visit the bank. This also is a good way to monitor children's accounts.
Drawbacks: Some people feel skittish about viewing their sensitive financial information online.
Security risk: Low. Remember and protect your account login and password as closely as you do your account numbers and your ATM personal identification number (PIN).
What you'll need: A checking or savings account and an Internet-capable computer.
How to do it: Call your bank or check its Web site to find out how to sign up.
Online banking is like getting your monthly statement every day. If you use a debit card in place of checks, your online banking statement will be a digital record of where and when you shopped, and how much you spent.
Online credit card
Price: Free.
Benefits: Keep track of what is being charged to your credit cards. You also can choose to pay off your balance more often and prevent interest charges from building on credit cards. Also, if someone charges your card incorrectly, you can spot the problem in days instead of weeks.
Drawbacks: This requires patience. Sometimes merchant charges take a day or so to show up on your online statement.
Security risk: Low.
What you'll need: A major credit card and an Internet-capable computer.
How to do it: Sign-up information might be on your credit card statement. If not, call your credit card issuer to find out how to sign up.
Most major credit providers now allow you to view and pay your account balance online. Online wireless-phone account information also is becoming more plentiful.
Online bill pay
Price: Usually less than $5 a month, postage included.
Benefits: These services allow you to stop bothering with checks and stamps, and instead send payments to individuals or institutions from anywhere there's an Internet connection, and schedule automatic payments for bills such as car loans and mortgages that don't vary from month to month.
Drawbacks: You must be sure to allow time for the bill-pay service to send your check. That can take four or so business days.
What you'll need: Your bank account numbers and an Internet-capable computer.
Security risk: Moderate. You must be especially careful to protect bill-pay passwords; don't make them something a person could guess. If someone were to get into your bill-pay account, he could send himself checks.
How to do it: Bill pay is built into the major budgeting software products, Quicken and Microsoft Money. You also can do bill pay through most online banking sites, or through portals such as AOL and Yahoo. Specialty sites such as PayTrust.com and PayMyBills.com also offer the service.
Financial planning calculators
Price: Free.
Benefits: These can help you to quickly estimate such things as loan payments, tax withholding and mortgage affordability.
Drawbacks: If you expect to use these in your financial planning, be careful to enter the correct numbers into the calculators. Also, be sure the calculator was built by a source you're comfortable with. For big planning decisions, consider checking with a professional if you're not sure about your calculations.
What you'll need: An Internet-capable computer.
Security risk: Very low.
How to do it: Search at an online search engine such as Google for "financial calculators." A couple of good ones can be found at www.moneyadvisor.com/calc and www.irs.gov/taxpros.
Who remembers how to calculate compound interest? How many additional exemptions should you claim on your W-4 if you buy a new home, sending your property taxes up $1,000 and your annual mortgage interest payments up $3,000? You supply the numbers, and the calculators do the math.
Tax-planning software
Price: $40 to $60 a program.
Benefits: Many banks and brokerages allow you to download your account information into budgeting software such as Quicken and Microsoft Money. You can then categorize your spending, make budget projections and even have the software draw up charts and graphs. You can later use the same information to do your taxes digitally using programs such as TurboTax or TaxCut.
Drawbacks: If you don't remember to enter your latest financial information or download it from your bank every month or two, your finances can become just as muddled as before. Also, for the most accurate budget, you'll need to keep receipts for purchases you make in cash.
Security risk: Low to moderate. Anyone with access to your PC can access your budget information, unless you protect it with a password so be sure to install this software only on a computer you own. Password protection is not complicated, and it's built into both the Windows and Macintosh operating systems.
What you'll need: A Pentium PC or a Mac running system 7.1 or higher, a CD-ROM drive and Internet access if you want to download financial data.
How to do it: All the programs mentioned above are available at stores that sell computer software.
This is where you see the big picture. Once you've entered the information, you can create pie charts that show what percentage of your income you're spending on food, transportation, entertainment, whatever. It's like your household is a business, and the software creates a quarterly report or a daily one, if you like.
Copyright 2018 The Lawrence Journal-World. All rights reserved. This material may not be published, broadcast, rewritten or redistributed. We strive to uphold our values for every story published.