London — She became queen when Winston Churchill was prime minister, food was rationed and the British Empire was crumbling along with its influence. Harry S. Truman was president of the United States. Stalin was running the Soviet Union. Mao Tse-tung was less than three years into his communist grip on China.
In Britain, it was an era when housewives spent a quarter of their 15-hour workday in the kitchen, one in three households didn't have a bath, and only a few hundred thousand television sets existed.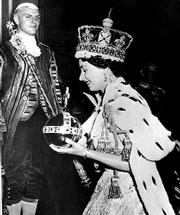 Her reign was supposed to herald a second Elizabethan Age, an artistic, social and industrial rebirth for a country mired in post-war drabness and yearning for old glories.
Fifty years after she became queen, Elizabeth II might not have changed all that much as a public figure and state symbol despite enormous challenges but Britain surely has.
As Elizabeth, 75, embarks on a journey around the country this spring, she'll see a Britain transformed from the one in which she was raised. It is a Britain where the old heavy industries are gone, replaced by service jobs. It is a Britain grown closer to Europe, still very British but somehow slyly continental, too. It is a Britain where political power has been dispersed to the regions, Wales, Northern Ireland and Scotland. And it is a Britain whose people are increasingly multiethnic and multifaith.
How does Britain "celebrate" a queen's reign in the early 21st century?
Will there be an outpouring of warmth and appreciation for the queen as there was in 1977, when millions turned out for street parties to toast the Silver Jubilee, or will festivities turn into a bust?
In all likelihood, the queen's Golden Jubilee will be a raging success, tourists and subjects doing their duty and getting into the party mood that culminates June 1 to June 4 with a four-day holiday weekend featuring concerts, fireworks, prayer services, processions and the inevitable royal wave from the balcony of the queen's London home, Buckingham Palace, which she only recently opened to tourists, and then only when she is not at home.
A world away
It's all a far cry from how her years on the throne began, in hope and mourning.
Elizabeth became the sovereign on the death Feb. 6, 1952, of her father, King George VI, assuming the mantle as head of state for a state shrinking in power.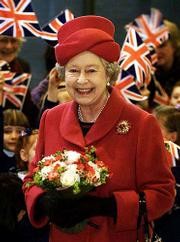 She was a young princess when the empire's crown jewel, India, gained independence in 1947. She dispatched her middle-aged son, Prince Charles, to watch as Hong Kong was turned over to its rightful Chinese owners a half-century later.
She outlasted socialism and Thatcherism, the Beatles and the punks. She even paid taxes.
She was a working woman before there was a women's liberation movement and a symbol of elegant sophistication before Princess Diana was born.
"She symbolized what we thought the British people ought to be like," says Philip Ziegler, historian and royal biographer. "She exuded conscientiousness, strength, courtesy and the stiff upper lip. She was a devoted wife and mother. The family was a trump card then."
It was truly another age. When her father died, Elizabeth was touring Kenya with her husband, Prince Philip. Kenya was a British colony then. She rushed back to London.
The scene at the airport evoked the time and distance from the 21st century, even the 20th. The new queen, swathed in black, was pictured descending the steps from her aircraft. She was greeted by Winston Churchill, stooped, a walking stick at his side, a shadow of the man who rode in the British army's last cavalry charge in 1898 and mastered the country's survival and triumph in World War II. Also at the bottom of those steps was Clement Atlee, the Labor Party leader who constructed the modern welfare state.
Now, the country is run by Tony Blair, the 10th prime minister of Elizabeth's reign. He was born a month before her coronation. As a modern leader, Blair wages air war far removed from Churchill's charge. He also oversees the remnants of Atlee's welfare state, a creaking apparatus in need of cash and a management overhaul to bring hospitals and schools into a new millennium.
Backstage power
The queen's role in the life of her country seems secondary, although she does act as a symbol of unity and continuity, as well as an upholder of the country's unwritten constitution.
But many attest to her role as a backstage power. She does, after all, meet weekly with Blair, as she has with all of her prime ministers.
"Harold Wilson (Labor prime minister 1964-1970, 1974-1976) adored the queen," Ziegler says, adding that he "never, ever told anyone what was said" during the weekly meetings.
There was a time when monarchs had unquestioned rule and power; they did beheadings and wars. This queen does tea and travel.
More than a million people have attended her palace garden parties. She is also an epic globetrotter, visiting the likes of the Coros Islands (population: 655) and China (population: more than a billion).
There was a time when the Windsors appeared to represent the best of British family life. When the Windsors consented to appear in a 1969 television documentary, little could they have realized the unintended consequences. "The royal family mistakenly pulled back the curtains," Ziegler says.
The tame documentary showed that the royal family was prepared to put its private life on display. Britain's newspaper tabloids obliged. The family's later travails became the stuff of banner headlines.
The royal family's popularity has risen in recent years. An overwhelming number of Britons tell pollsters they favor keeping the monarchy.
It might seem remarkable that an individual who is not known to have ever said or done anything brilliant is possibly the most famous woman in the world. But this is not expected of a queen. In the end, the Golden Jubilee festivities will mark Elizabeth's most important accomplishment as queen.
"She survived," Ziegler says.
Copyright 2018 The Lawrence Journal-World. All rights reserved. This material may not be published, broadcast, rewritten or redistributed. We strive to uphold our values for every story published.