Berries, cherries and chocolate: These are highly recommended ingredients for creating a heartfelt, homemade Valentine greeting.
The dark, sensuous depths of a rich chocolate batter baked in a heart-shaped pan or mini-muffin cups will help you catch the attention and affections of loved ones.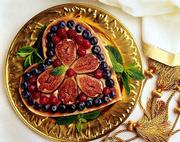 A file-drawer collection of Baker's Chocolate recipes yielded a brownie bonbons recipe. The original called for maraschino cherries with stems to be pressed into indentations made while the mini-brownie cups are still warm. But the stems are just in the way; the recipe was tested with stemless cherries. Canned Bing cherries could be used by those who object to the red dye in maraschinos.
Top a heart-shaped Bittersweet Berry Torte with imported, fresh raspberries. If the raspberries' seeds are undesirable, switch to Florida strawberries being featured front and center in area supermarkets.
Be sure to slice the hulled strawberries vertically from end to end to create heart shapes for overlapping slightly on top of the Bittersweet Berry Torte.
The recipe (calling for and pictured on the book's back cover with raspberries) is one of 53 in a cookbook called "A Passion for Chocolate" (Better Homes and Gardens Books, $16.95 hardcover).
Bittersweet Berry Torte


14 ounces semisweet chocolate, coarsely chopped
1/2 cup butter (1 stick)
1/4 cup milk
5 eggs
1 teaspoon vanilla
1/2 cup granulated sugar
1/4 cup all-purpose flour
1/4 cup seedless red raspberry jam
Nearly 2 cups fresh raspberries or sliced strawberries
Grease the bottom of an 8-inch heart-shaped cake pan with a removable bottom or an 8-inch round springform pan. Set pan aside.
Preheat oven to 325 degrees.
In a heavy medium saucepan, combine chocolate, butter and milk. Cook and stir over low heat until chocolate is melted. Remove from heat; cool mixture for 20 minutes.
In a mixer bowl, beat eggs and vanilla at low speed until combined. Add granulated sugar and flour; beat on high speed 10 minutes. Stir chocolate mixture into egg mixture. Pour batter into prepared pan.
Bake at 325 degrees for 30 minutes (35 minutes for springform pan) or until the outer third of top is slightly puffed. The center will still appear to be underbaked.
Cool torte on a wire rack for 20 minutes. Use a knife dipped in warm water to loosen the dense, moist torte from sides of pan. Cool torte thoroughly. Remove sides of pan. Wrap torte in foil. Chill overnight or up to two days.
To serve, bring torte to room temperature. In a small saucepan, melt seedless red raspberry jam. Cool. Spread jam on top of torte. Cover jam with raspberries, stem sides down. Or remove stems from fresh Florida strawberries of similar size. Slice lengthwise into heart shapes and arrange on top of torte, overlapping the slices in an attractive pattern. Dust with powdered sugar just before serving.
Makes 12 servings.
Recipe adapted from "A Passion for Chocolate" (Better Homes & Gardens Books, Meredith Press, 2000, $16.95 hardcover).
Cherry Chocolate Bonbons


1 (10-ounce) jar maraschino cherries
2 squares unsweetened chocolate (4 ounces)
6 tablespoons butter
1 cup granulated sugar
2 eggs
1/2 teaspoon vanilla
1/2 cup all-purpose flour
Half a 8-ounce package cream cheese, softened
1/2 teaspoon vanilla
2 tablespoons corn syrup
1 1/2 squares unsweetened chocolate, melted and cooled
3/4 cup powdered sugar, divided use
Grease or spray 24 miniature muffin cups. Preheat oven to 350 degrees.
Drain maraschino cherries, reserving their liquid. Let cherries stand on paper towels to dry.
Meanwhile, in a medium-size microwavable bowl, microwave on high 2 squares of unsweetened chocolate, chopped into chunks, with the butter for 1 minute or until butter is melted. Stir until chocolate chunks are completely melted.
Stir granulated sugar into melted chocolate mixture. Mix in eggs and vanilla until well blended. Stir in flour to form a brownie batter. Fill the greased muffin cups about 2/3 full of batter. Bake at 350 degrees for about 20 minutes or until a wooden pick inserted into center comes out with moist crumbs. Do not overbake.
Cool bonbons slightly in pans; loosen edges with tip of knife. Remove from pans while still warm. Turn each bonbon onto a waxed paper-lined tray. Make a 1/2-inch indentation into the top of each, using the end of a wooden spoon. Cool bonbons completely.
Combine 1/4 cup of the powdered sugar with enough reserved maraschino cherry liquid to form a thin glaze. Set aside.
For filling, beat cream cheese and vanilla until smooth. Slowly pour in corn syrup, beating until blended. Melt 1 1/2 squares chocolate and allow to cool. Add to cream cheese mixture and beat smooth. Gradually add remaining 1/2 cup powdered sugar, beating until well blended.
Spoon or pipe about 1 teaspoon of the filling into the indentation of each bonbon. Gently press a drained maraschino cherry into filling. Stir the thin glaze again and drizzle over each bonbon.
Makes 24 bonbons.
---
Recipe adapted from Baker's Chocolate.
Copyright 2018 The Lawrence Journal-World. All rights reserved. This material may not be published, broadcast, rewritten or redistributed. We strive to uphold our values for every story published.