Las Vegas — After years of introducing a confounding array of features that put consumers through the blinking 12:00 syndrome, makers of high-tech gadgetry are operating under a new premise: Less is more.
As evidenced at this year's Consumer Electronics Show, TVs are wider, flatter and thinner, while camcorders and digital cameras are shrinking so much they are nearly microscopic.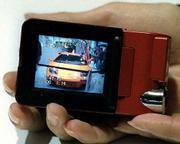 But the most striking feature of the countless products hitting the market this year goes well beyond cosmetics. What Microsoft Corp., Pioneer Corp., Panasonic, TiVo Inc., RealNetworks Inc. and many other companies hope to do is appeal to consumers with the prospect that the new gizmos will bring order to lives wearied by multitasking and techno clutter.
For people who are running out of space for their camcorder, digital camera, radio and microrecorder, there is a palm-size device by Panasonic that performs all four functions.
For people who don't have enough room in their pockets or purses for their cell phone and electronic organizer, there is a device by Samsung Electronics Co. that does both and plays music videos.
For those daunted by the effort to connect their TV, cable or satellite system, DVD and CD players as well as their VCR (not to mention programming them), there are systems offered by Pioneer, Moxi, TiVo and others to control everything. Some of those systems also provide Internet access and digitally store, catalog and sort music, photos and home videos.
And for those too busy to keep up with their house, Microsoft and OnStar offer systems to monitor and regulate the heating and air conditioning, lights, security system and other mechanics from a single source at home or from the car. In OnStar's system, a driver can get a message that the garage door was left open. Through a simple voice command in the car, the person can close the garage door from miles away.
So instead of having to organize and manage an array of incompatible devices and systems, these new, integrated technologies are designed to organize and manage you.
"Consumers are saying, 'I've got a busy life. I don't want to be overloaded with a lot of options I don't understand,'" said Ted Malone, director of product marketing for TiVo, the television service that among other things allows consumers to pause live TV and program their TV sets to record shows for future viewing.
Digital leads the way
The stage for the spate of integrated products was set by the tremendous acceptance of digital technology, which makes the innovations possible.
According to the Consumer Electronics Assn., the DVD is the fastest-growing consumer electronics product of all time. Despite the recession, sales of DVD players last year reached 13 million, a 53 percent increase.
Sales of digital televisions rose 65 percent between August 2000 to August 2001. The association projects sales of digital TVs will climb to 10.5 million in 2006, up from 1.4 million in 2001.
By the end of this year, experts believe sales of digital cameras will reach 7 million, a 30 percent increase.
Moreover, experts predict that sales of products linking TVs with the Internet will increase from $100 million in 2000 to $5 billion in 2005.
"Digital technology allows consumers to store more information, manipulate it in a more useful fashion and to take the content with them wherever they go," said Tim McNamara, spokesman for the Consumer Electronics Assn.
"In the near future, you'll see technology that is better, smaller and more portable," he said. "We'll see more wireless and need fewer and fewer wires to connect things."
Consolidation station
A plethora of companies have emerged this year with products aimed at organizing the home theater often a jumble of wires, boxes and incompatible music and video systems.
Pioneer, Microsoft and a new company called Moxi Digital Inc. each are offering systems that would consolidate all electronic entertainment functions into a single unit.
"Surveys show that 70 percent of people want access to music in every room of the house," said Jeremy Toeman, co-founder of Mediabolic Inc., which is providing the software for Pioneer's Digital Library product.
"This will give you entertainment anywhere, anytime," Toeman said. "It's very consumer-oriented it's not too futurey."
Copyright 2018 The Lawrence Journal-World. All rights reserved. This material may not be published, broadcast, rewritten or redistributed. We strive to uphold our values for every story published.