Langston Hughes' novel "Not Without Laughter" is the story of Sandy Rodgers, a young African-American boy growing up in the small town of Stanton, Kan. Sandy lives with his grandmother, whom everyone calls Aunt Hager; his mother, Annjee; and his Aunt Harriett in Hager's small house. Sandy's father, Jimboy Rodgers, comes around occasionally but never stays long.
Although "Not Without Laughter" is semi-autobiographical, the family Hughes created for Sandy was quite unlike his own. In his first autobiography, "The Big Sea," Hughes said: "I wanted to write about a typical Negro family in the Middle West, about people like those I had known in Kansas. I created around (the character of Sandy) what seemed to me a family more typical of Negro life in Kansas than my own had been."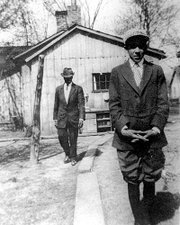 Hughes based the fictional town of Stanton on Lawrence, and many of the people, places and events in the novel were inspired by real people, places and events that Hughes knew or experienced during his childhood in Lawrence.
As was the case throughout the United States, racial discrimination and segregation were a reality for African Americans in Lawrence, and some of the most poignant scenes in the book are those based in fact. Harriett attends a movie with her classmates but is told she must sit in the "colored" section of the theater; the junior high school teacher seats the African-American children at the back of the room; and Sandy and his friends are turned away from a children's day party at an amusement park because they are black.
Hughes contrasts these scenes with others that demonstrate the intimacy and richness of African-American families and social life. As Sandy listens to conversations in the kitchen or stories told on the porch, he learns about the ways, both good and bad, of black and white folks alike. Church services and lodge meetings, dances and the pool hall all provide opportunities for socialization within the African-American community that mitigate the social segregation prevalent in white society.
When he leaves the woman's world in which he has been raised to work at a black barbershop and spend time at the pool hall, Sandy encounters the camaraderie of black men, where limitations and options alike are discussed and debated, and tall tales are told.
Ultimately, Sandy comes to realize that the reason "poverty-stricken old Negroes like Uncle Dan Givens lived so long" was because "no matter how hard life might be, it was not without laughter."
As Hughes tells Sandy's story in "Not Without Laughter," several opposing themes recur. Hughes contrasts Hager and Annjee who perform hard work in the service of white families, attend church and are generally homebodies with Jimboy and Harriett, both of whom enjoy music and dancing, work only occasionally and often leave town for long periods.
This contrast is beautifully framed in a chapter that tells of the simultaneous appearance in Stanton of the revival and the carnival, both of which "were loud and musical in their activities." Hughes' brilliant and lyrical use of prose is evident when he writes, "after sundown these August evenings the mourning songs of the Christians could be heard rising from the Hickory Woods while the profound syncopation of the minstrel band blared from Galoway's Lots, strangely intermingling their notes of praise and joy."
Hughes also contrasts the work ethic of Booker T. Washington with the uplifting racial philosophy of W.E.B. Du Bois but always refrains from passing judgment on those on either side of these conflicts.
---
Maria Butler is assistant to the director of the Lawrence Public Library.
Copyright 2018 The Lawrence Journal-World. All rights reserved. This material may not be published, broadcast, rewritten or redistributed. We strive to uphold our values for every story published.