Los Angeles — Nikolai Khabibulin's perfect goaltending gave his Russian Olympic teammates high hopes for Salt Lake City and left other All-Stars shaking their heads.
"His size and quickness make him one of the top in the league," Canadian Olympian Mario Lemieux said. "He's very sound technically. He's always in the right position."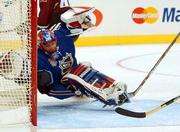 With double-digit scoring a tradition in the NHL All-Star game, Khabibulin, the Tampa Bay goalie, shut out the North American team while the World rallied with five goals in the third period for an 8-5 win Saturday.
"You don't totally expect to have a shutout when you play games like this," Khabibulin said. "Just like I said before, I got lucky today."
Markus Naslund's second goal put the World ahead 6-5 with 1:43 left, and Chicago's Alexei Zhamnov and Carolina's Sami Kapanen added empty-net goals.
Naslund, a Swedish Olympian, praised Khabibulin, a possible opponent two weeks from now.
"He's one of those guys you've got to watch to see how good of a goaltender he really is," Naslund said. "He's not on the best of teams, but he still keeps it to a low score. He's truly one of the best goaltenders in the league."
Could he be the difference in the Olympics?
"Let's keep our fingers crossed," said Russian center Alexei Yashin, who assisted on the fourth of five World goals in the third period.
"I certainly hope so," added Detroit's Sergei Fedorov, who also scored late.
Said Khabibulin: "I can't really say that this is a preview of Olympics. It's a totally different game."
Chicago's Eric Daze, making his first All-Star appearance, won MVP honors with two goals and an assist for North America. Lemieux and Ed Jovanovski also scored.
Khabibulin stopped all 20 shots. He joined Patrick Roy, Martin Brodeur and Olaf Kolzig as the only goaltenders to play a scoreless period in the last 14 All-Star games.
The 13 goals were exactly half of last year's total when the North Americans won 14-12.
Vancouver's Naslund, who had just joined Calgary's Jarome Iginla for the NHL scoring lead last week, helped the World erase a pair of two-goal deficits.
With a scorer's confidence, he believed Khabibulin could be outsmarted in Salt Lake City.
"He's solvable," Naslund said. "No goaltender can stop everything. If you play well enough, goals will come eventually."
San Jose's Teemu Selanne had two first-period goals for the World team while Espen Knutsen and Sergei Fedorov also scored.
It took 35 seconds for Vincent Damphousse to score the first goal, giving the North Americans the early lead. The record for fastest game-opening goal is Ted Lindsay's score 19 seconds into the 1950 All-Star game.
The World team, coached by Detroit's Scotty Bowman, seemed out of tune and flat early, particularly in relation to the North Americans.
North America coach Pat Quinn, who is also the coach of Team Canada, used the game to check out possible line combinations to use in Salt Lake City, and it sparked the mellow crowd before the late surge by the World players.
Lemieux logged major playing time with fellow Canadians Paul Kariya and Joe Sakic.
Kariya assisted on Lemieux's goal, tying the Pittsburgh star with Wayne Gretzky for most All-Star goals with 13.
Gretzky, the executive director of Team Canada, said Friday he expected Quinn to play Lemieux and Kariya together on Canada's top line. Sakic is their natural center.
The trio drew the only real noise in the arena as it combined for several pretty scoring chances.
Quinn's tinkering allowed the U.S. players to stay together, and the defensive pairing of Chris Chelios and Brian Leetch is a likely fit for the Olympics. Up front, Mike York and Jeremy Roenick played together.
Chelios made his 11th All-Star appearance the most of any player in Los Angeles while Leetch made his ninth.
World goalie Dominik Hasek started and allowed three goals on 13 shots in the first period. The Detroit netminder didn't seem too concerned, smiling slightly after each goal.
Roy allowed Selanne's two goals on 14 World shots in the first period.
Montreal goalie Jose Theodore, a first-time All Star, shined in the second period for the North Americans.
Washington's Jaromir Jagr made his mark, but not on the game. After complaining of fatigue on Friday, he criticized his teammates in a first-period, midgame interview on ABC.
World 8, North America 5
World 2 1 5 8
North America 3 2 0 5
First Period1, North America, Damphousse (Blake), :35. 2, North America, Jovanovski (Damphousse, Daze), 10:06. 3, World, Selanne (Zhamnov), 13:10. 4, North America, Daze, 15:05. 5, World, Selanne (Kapanen, Kaberle), 16:52.
Second Period6, North American, Lemieux (Kariya), 2:02. 7, World, Naslund (Knutsen), 5:26. 8, North American, Daze (Pronger, Damphousse), 11:33.
Third Period9, World, Knutsen (Sundin, Naslund), 7:52. 10, World, Fedorov (Gonchar), 16:59. 11, World, Naslund (Sundin), 18:17. 12, World, Zhamnov (Yashin), 19:12 (en). 13, World, Kapanen (Elias, Ozolinsh), 19:56 (en).
Shots on goalWorld 14-9-1639. North America 13-17-2050.
Power-play OpportunitiesWorld 0 of 0; North America 0 of 0.
GoaliesWorld, Hasek (13 shots-10 saves), Salo (20:00 second, 17-15) Khabibulin (20:00 third, 20-20). North America, Roy (14-12), Theodore (20:00 second, 9-8) Burke (20:00 third, 14-11).
A18,118.
Copyright 2018 The Associated Press. All rights reserved. This material may not be published, broadcast, rewritten or redistributed. We strive to uphold our values for every story published.