New York — Adam Rinn was stumped by his homework. Sitting before class with his teacher, Rinn explained his frustration.
"The smaller nails go all the way in my nose," said Rinn, hefting a large, pointy spike in one hand as his instructor nodded patiently. "But the larger ones -- no."
It's time for a little remedial work here at the Sideshow School, an extraordinarily rare chance for aspiring fire-eaters, sword-swallowers and human blockheads to learn the disappearing tricks of the venerable trade.
A half-dozen students, instructed by 30-year sideshow veteran Todd Robbins, gathered in a dimly lighted room for the session in Coney Island.
Each summer, the building houses the freaks and oddities of the acclaimed Sideshow by the Seashore; in the off-season, it doubles as a learning annex. The four men and two women were brought together by an uncommon goal.
"These are people who decide, 'I want to learn how to eat fire,"' Robbins said. "'I want to learn how to inflict mayhem against myself for fun ... and maybe, for profit."'
Who doesn't? Ladies and gentlemen, step right into our classroom and you'll see ...
The amazing Long Island man, who once gagged while getting a throat culture, inhaling a coat hanger!
The astounding Massachusetts haunted house worker, at great risk to his goatee, blowing an enormous fireball!!
The astonishing instructor, lecturing from a bed of nails and supporting the weight of five students!!!
No, this ain't the Ivy League. And you don't need a good SAT score to matriculate here, where the teacher stands onstage and the students sit on wooden bleachers.
Strange new skills
Robbins looks quite professorial in his blue shirt, black jeans and glasses -- until he pulls a two-foot sword from his throat, inspects the steel as if reading a thermometer, and announces, "My fever's gone down."
Robbins' resume includes performances at the Kennedy Center and Carnegie Hall, along with spots on Letterman and Leno. He learned his skills "through the kindness of old performers," he recalls wistfully. "Most of them no longer with us."
To Robbins, 44, the school is a way of keeping their work alive. The Coney Island operation bills itself -- with perhaps a touch of traditional barker's bluster -- as the last of the old school sideshows.
"The last great sideshow generation is rapidly leaving us," Robbins says. "We just kind of need to pass this on, to keep it going."
To student Rinn, the school is an opportunity to pick up some strange new skills. Dressed in a red shirt, black vest and pork pie hat, he already has the carny look down.
By the end of the day, the fifth of six four-hour sessions over two weekends, Rinn could be class valedictorian. He has mastered the bed of nails -- "Bring it on," he says cheerily when a second board is placed face-down on his torso, threatening his safety from above and below.
Rinn has already set the tip of his tongue aflame. He's blown fireballs by spewing lamp oil into an open flame. And he's swallowed that coat-hanger, twisted up into an 18-inch approximation of a sword -- not an illusion, but the real thing.
Not everything runs so smoothly. During the fireball demonstration, Robbins nearly took a blast of fire in his face when the wind whipped up off Surf Avenue.
"I'm all right," he says, checking his glasses for burns.
Two other fireball students sit side by side after the session. Rob Maloney, 21, of East Bridgewater, Mass., sips a soda chaser after swilling the lamp oil. Ed Messenger, a fellow New Englander, is asked if the lamp oil is poisonous.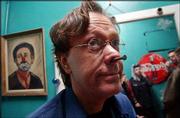 "Well," he reflects, "technically, yes."
No lawsuits
The beginner's class, with a tuition of $600, is only the second session of Sideshow School, following one in spring 2002.
Each student must sign a "hold harmless agreement" -- basically a legal form guaranteeing no lawsuits if anything goes awry with a sword or a torch.
None hesitated.
During the fire-eating session, Robbins discusses the relative merits of kerosene vs. unleaded gasoline as student Maloney dipped his torches in a green thermos marked "Toxic."
Robbins later stresses the importance of keeping your swallowing swords clean: "Gastric juices, mucous and saliva will corrode your sword."
In his pre-class session, Robbins -- after pounding a nail up his own nose -- chatted with Rinn about his nail-nose problem. Robbins also provided a warning for the would-be sideshow artist.
"There's this thing called 'blockhead-itis,"' Robbins said, a smile creasing his face. "You start looking at things and wondering, 'Can I get that up my nose?"'
Copyright 2018 The Associated Press. All rights reserved. This material may not be published, broadcast, rewritten or redistributed. We strive to uphold our values for every story published.