In "Drastic," her collection of 12 short stories, Maud Casey pulls readers in from the get-go, inviting them to intriguing and sometimes frightening places: the Dollywood theme park in Tennessee, a whole-body donation clinic in San Francisco, a domestic violence shelter in the Southwest.
But to read this collection for only its most compelling settings would be to miss out on experiencing Casey's heart and keen eye for human nature.
In "Seaworthy," the father of Irene, 11, takes her from their home in New York to Dollywood to escape his wife's mental illness. While at a motel, Irene is taken under the wing of its owner, Clara, who is 6 feet tall and trailed by two de-barked Dobermans.
While she misses her mother and hopes her father had told her about their trip, Irene is able to leave her troubles on land as she immediately identifies with Clara's love of swimming.
"She'd been secretly hoping that Clara would notice what a good swimmer she'd become in the past couple of days, that she'd recognize Irene's talent and take her with her on one of her dives. It was true -- Irene had never felt so happy in her life as when she was in the water. It felt natural, like a place she was always meant to be. Again, a wave of guilt over not missing her mother threatened to drown her."
Reaching out to others for comfort in times of pain and need is a theme Casey addresses again in her story, "Rules to Live."
She introduces us to a victim of domestic violence who describes life at a shelter for battered women -- a place that makes the narrator realize she "no longer lives in a world of knowing where the silverware is or the feel of the key in the lock of my own front door."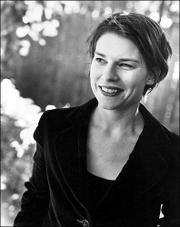 It is in this unfamiliar world where she befriends fellow victim Lindy. "Our Iowa roots are all Lindy and I have in common, but here, where no one wants to see the thing they have most in common, that is a lot."
Loneliness and grieving are other themes prevalent in Casey's collection.
In "Talk Show Lady," Rita takes a job as a fill-in guest on a talk show soon after her mother dies. She dresses in costume for various roles: a woman held captive for many years by a couple, a woman who was raised by wolves, a woman addicted to affairs with married men.
She admits that she took the job to escape her grief, but then realized that performing was her way of "holding her mother to this earth."
Through each of her characters' struggles with love, grief, friendship and healing, Casey brings the reader into a light of truth with subtle yet striking revelations about how her characters -- and we -- survive.
Copyright 2017 The Associated Press. All rights reserved. This material may not be published, broadcast, rewritten or redistributed. We strive to uphold our values for every story published.