Louisville, Ky. — If Rick Pitino took any extra satisfaction from his new team beating his old team, he barely showed it.
As the final seconds ticked off in Louisville's 81-63 victory over No. 14 Kentucky at Freedom Hall on Saturday, Pitino got up from his crouch on the sideline and calmly walked to midcourt to shake hands with Wildcats coach Tubby Smith, his former assistant.
"Everyone will say, 'Well, he's holding it in,' but I love beating Kentucky as much as I love beating anybody else," said Pitino, who coached the Wildcats from 1989-97 and led them to the 1996 national championship.
But a smile sneaked across Pitino's face during his postgame news conference.
"I don't have any special feelings, but it would've been terrible if we'd have lost," he said.
Kentucky transfer Marvin Stone scored 16 points and Ellis Myles had 11 points and 14 rebounds for Louisville (7-1), which snapped a three-game losing streak to its rival.
Pitino avenged a 20-point loss to the Wildcats in his much-ballyhooed return to Rupp Arena last December. He was making his first appearance in his former home arena, and fans screamed insults at him from the start in Kentucky's 82-62 victory.
The rude reception stuck with the Cardinals.
"We really wanted to get this win for coach, the way they treated him last year," Myles said.
The atmosphere was much different in Freedom Hall on Saturday.
Louisville's fans gave Pitino polite applause as he took the floor. They let out a more exuberant cheer when he was introduced after his starting lineup.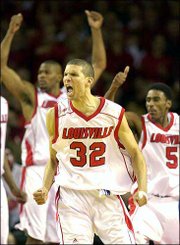 Kentucky (6-3) quieted the crowd with a fast start, dominating the boards and building a 20-9 lead. The Wildcats got 15 of the first 16 rebounds in the game.
"I told my assistants if we don't start rebounding, we're practicing tonight," Pitino said. "I don't know if my staff told my team."
But the rebounding evened out, and the Cardinals improved their defense. Kentucky had only three baskets in the last five minutes.
The Wildcats led 33-30 at halftime, but Erik Brown, who's from Lexington, made a three-pointer with 17:03 left to initiate a 17-4 run by the Cardinals.
Kentucky opened the game by shooting 9-of-17 from the field, then missed 19 of its next 24 shots, including nine of the first 10 at the start of the second half.
"We ran out of gas way too early," said Chuck Hayes, who had 11 points. "We lost confidence too early. We had shots inside, we just couldn't get them to fall."
The crowd noise intensified with each Louisville basket as the lead bulged to 47-37 by the 14-minute mark.
"The home court was the difference," Pitino said. "I know how much this game meant to our fans."
The Wildcats went more than five minutes without a field goal in the second half and never got closer than 17 in the last five minutes.
Copyright 2018 The Associated Press. All rights reserved. This material may not be published, broadcast, rewritten or redistributed. We strive to uphold our values for every story published.