Albany, N.Y. — Consider Pinocchio's strange journey.
Carved from a piece of wood in 1881, he has been hoodwinked, knocked around, swallowed by a giant fish, given a cuddly makeover by Disney and re-created as everything from a college professor to a space traveler. Even now, comedian Roberto Benigni is adding his own twist to the classic character in a new movie.
Keeping track of the hundreds of versions of the puppet-to-boy story -- a dozen translations came out annually in this country at one point -- would take decades.
Just ask Richard Wunderlich.
The white-haired sociology professor has spent 24 years studying Pinocchio. He published a catalog listing some 900 Pinocchio books. Many more are jammed in his closet and under his bed in his Albany home. He has become an academic interpreter of the puppet who sees echoes of Homer in the original tale and argues that tweaks made to the Pinocchio story over the decades are a sort of index of cultural change.
Darker beginnings
The 65-year-old professor at The College of St. Rose spends a lot of time thinking about Pinocchio.
Everyone knows Pinocchio's story: An enchanted puppet gets into trouble, learns valuable life lessons and is changed into a real boy by the Blue Fairy. What most Americans don't know is how much that basic story has changed.
The original Pinocchio story, written by C. Collodi and serialized beginning in 1881, introduced a headstrong and intermittently thoughtless puppet. Geppetto was dirt-poor and had a temper. And the talking cricket? Pinocchio squashed him with a mallet.
Wunderlich said that version of the tale proved popular in the United States once translations began appearing stateside in 1892.
Things changed around the time of Walt Disney's animated film in 1940. The movie upscaled Geppetto and shaved away Pinocchio's more petulant personality traits. Wunderlich said Disney was serving up a happy version of Pinocchio for people who lived through the Depression.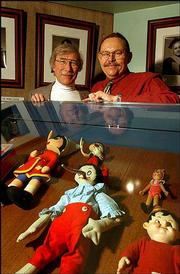 While Wunderlich calls the Disney movie a masterpiece, he considers the story inferior to the original. Lost is the story of a boy learning the hard way -- Collodi's Pinocchio is hanged and gets his feet burned off -- about responsibility and growing up. In its place came a tale endorsing obedience, Wunderlich says.
"Walt Disney's Pinocchio is an innocent babe and can't do anything for himself," he said. "What we have in the original is a feisty puppet."
In "Pinocchio Goes Postmodern: Perils of a Puppet in the United States," a book Wunderlich co-authored with Thomas Morrisey, the pair cite a 1930s play as a likely inspiration for some of Disney's changes. But the classic Disney movie has come to define the average American's concept of Pinocchio since then.
"It's almost like a bulldozer that came in and rolled over Pinocchio," says Morrisey, a professor of English at Plattsburgh State.
Puppet collection
It was Morrisey who helped spark Wunderlich's interest in Pinocchio. Morrisey asked him to guest lecture on the sociology of children's literature when they both taught at Plattsburgh in 1978. Wunderlich prepared by reading a sweetened version of "Pinocchio" (no cricket squashing), not knowing of Collodi's tale at first.
After reading the original, Wunderlich was struck by the changes added by other writers. He wondered why they were made and has spent decades finding the answers.
"Pinocchio Goes Postmodern," published this year, is a cultural and literary analysis. But Wunderlich started his Pinocchio studies by tracking down versions of the story and coming out with "The Pinocchio Catalogue" in 1988. He equates the work to putting together a puzzle that is never quite finished.
"Pieces keep coming up that you can't quite place, and then you look and more pieces keep emerging," he says. "There's this obsession. You find all the pieces."
A side effect of Wunderlich's academic pursuit is that people keep giving him Pinocchio puppets. A few are displayed in a home office dominated by Pinocchio figures, Pinocchio posters and a Pinocchio ring toss (the rings go around -- where else? -- the nose). His collection of 600 to 700 Pinocchio books is growing all the time, too.
The never-ending flow of Pinocchio memorabilia shows how the story still resonates in an age when children rarely keep puppets in their toy chests. The tale continues to inspire both high and low art -- from 1964's "Pinocchio in Outer Space" to novelist Robert Coover's "Pinocchio in Venice," which recasts the character as a retired art professor.
Back to roots
Children's book illustrator Lane Smith joins the list of Pinocchio interpreters with the newly released "Pinocchio The Boy." Smith, who illustrated a reimagined Gingerbread Man as the Stinky Cheese Man, takes up Pinocchio's tale after he becomes a boy. Lane's Pinocchio discovers that being flesh and blood sometimes isn't all that enchanting. People are rude to him -- even Cricket disses him.
Next up for American audiences is Benigni, the Italian comic whose "Life Is Beautiful" won the Academy Award for best foreign-language film in 1999.
Released in Italy this fall, this "Pinocchio" hews closer to Collodi (although the 50-year-old actor reserved the role of the boy puppet for himself). It opens this week.
Wunderlich will be watching -- hoping the high-energy comedian will nudge Pinocchio's image back closer to Collodi.
Copyright 2018 The Associated Press. All rights reserved. This material may not be published, broadcast, rewritten or redistributed. We strive to uphold our values for every story published.