New York — You might have heard that the logo look is over. Not true.
The new take on wearing a monogram or any other identifiable mark on your sleeve, ankle or elsewhere, though, is to forgo the initials of a fancy Frenchman and use your own instead.
Retailers and manufacturers are encouraging you to put your stamp on your shoes, handbags, jeans and everything else in your closet. There also is a complementary emphasis of one-of-a-kind things from vintage jewelry to custom-made chinos.
The beauty of this trend, according to Karen Centner, vice president and general merchandise manager for Lands' End Internet and international divisions, is that ordinary folks have access to clothes that fit both their bodies and personalities to a T.
"There is true customization available. A product is cut and sewn one by one for a specific customer, which is something that had always been only for the elite because it used to require a tailor taking measurements, which is very expensive, and require multiple fittings, which takes a lot of time," Centner says.
Lands' End is among the brands offering an interactive design process. Others range from mass manufacturers, such as Levi's and Nike, to designer labels such as Escada, which does made-to-order Margaretha handbags that cost $3,900.
The skin-care line Jo Malone encourages consumers to become perfumers with its Fragrance Combining program.
"The customizing trend is even bigger than monogramming, which also has become even more important," says Jaqui Lividini, senior vice president of fashion merchandising at Saks Fifth Avenue. "Individuality is a cultural shift. In the '90s, we were attracted to uniformity. ... The pendulum swings. This is the other side of uniformity."
Standing out
It used to be, Lividini says, that people wanted to walk into a room and blend in but now they want to stand out from the crowd.
A Nike sneaker in bold orange, with a bright red "swish," electric blue tongue, black sole and your name in the back in yellow would sure get you noticed. This unusual and highly personalized combination designed in front of your eyes on your computer screen can be yours for just $10 more than any old pair of Nikes.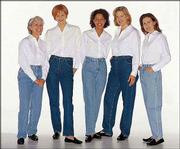 "People are choosing color ways that should be illegal," says Jay Wilkens, general manager of Nike iD, the company's online customization program.
He says the opportunity to create such unique designs is attracting atypical Nike customers who are more concerned with fashion than the technical construction of their shoes.
"We were thinking people would like this because of the control over performance but don't underestimate the power of aesthetics," he says with a laugh.
Success stories
Nike's desire to provide customization for the masses has been around longer than the technology that allows the company to do it. Since launching it in late 1999, the program, which currently is only available on the Web but will eventually expand to retail stores, is more successful than Nike expected.
That, of course, means more work on the production end. Factories that used to make 100,000 pairs of one shoe style now make one pair of 100,000 shoe styles.
Manufacturers have adapted, though, Wilkens says, and the turnaround time for a pair of personalized shoes is about three weeks. But, he adds, customized clothes and accessories will never replace off-the-rack wares because some people can't live without instant gratification.
Lands' End began its customization program once consumers became comfortable ordering online -- and once manufacturers' computers could produce individual patterns based on each of those orders, Centner explains.
She says online shoppers who buy Lands' End customized chinos, jeans or men's dress shirts aren't asked any information they shouldn't know off the top of their head, such as their waist, neck or bust measurements.
Letter-perfect fit
The company also asks general questions about body type since people aren't always forthcoming about their measurements, she notes.
Consumers are appreciative of the letter-perfect fit. Centner says the company gets a lot of feedback from people who had been searching for garments that are the right height and width. "Every woman wants a pair of jeans that fits," she adds.
Centner expects customization will be a hit with women's tailored clothes once the company figures out how to offer such products in a timely, affordable manner.
When people start wearing customized clothes, they further personalize them by adding their name; two-thirds of Lands' End's custom-shirt wearers have them monogrammed. Even with its general merchandise, the brand has seen a 21 percent increase in monogramming this year over 2001.
"We'll try monogramming just about anything," says valued added-services manager Janet Surtees, who has helped put initials on towels and boxer shorts. "If a customer asks for it and we didn't think about it before, we'll try it."
She says it's tempting to put your own signature on your clothes. "It makes something your own personal brand. You can take a sweater that anyone can have and you make it your own."
Femmegems NoLIta, a hands-on jewelry store in Manhattan, allows would-be designers to style their own gems, and the store's Web site allows Internet surfers to do the same.
Copyright 2018 The Associated Press. All rights reserved. This material may not be published, broadcast, rewritten or redistributed. We strive to uphold our values for every story published.