Antique wall clocks remain popular with collectors.
One famous style has a wooden octagonal case around the clock face and a wooden section with a glass door below the clock face. The lower section holds the pendulum. Clocks like these are called octagon-drop clocks or schoolhouse clocks. An octagon-drop clock with the words "Seikosha Regulator" painted in gold on the glass door is not rare. It was made in Japan in the 1890s. Seikosha was a clock-manufacturing facility founded about 1892 by Kintaro Hattori, a Tokyo clock retailer.
At first, Seikosha made wall clocks. Within a few years, the company was producing pocket watches, alarm clocks, table clocks and musical clocks. In 1913, Seikosha made Japan's first wristwatch. Eleven years later, it introduced its famous brand name, Seiko. This clock is worth about $500. Many reproductions of octagon-drop clocks are being made today.
My punch bowl is blue and white with the words "Tom & Jerry" painted in gold around the outside. The inside is white with painted pastel flowers. The bottom of the bowl is marked "Dresden" within a lined circle that looks like a globe. I am wondering about the maker and if Tom & Jerry are the cartoon cat and mouse. Why are their names on a punch bowl?
The mark on your bowl was used by the Dresden Pottery Co. of East Liverpool, Ohio, between about 1882 and 1925. "Tom & Jerry" refers to an eggnog recipe that dates back to the 1820s. An English journalist named Pierce Egan wrote a fictional journal titled "Life in London" in 1821. It was published as a serial, and it had two main characters, Jerry Hawthorn and Corinthian Tom. Egan himself is said to have created the recipe for the drink he named after his two characters. The recipe is traditional eggnog with added brandy.
For years, I have stored an old wooden desk chair in our basement. The chair is on casters and the seat sits on brass springs. The metal seal on the back of the chair reads "Marble and Shattuck Chair Co." The chair is probably oak. Can you give me any information about the age and value of this chair?
The Marble and Shattuck Chair Co. was in business in Cleveland, Ohio, from the early 1900s to about 1930. The firm had an office in New York City. Standard oak desk chairs about the age of yours sell for $150 to $500.
Two old metal tokens have been donated to the historical society where I work, in Ohio. The larger one, 3 centimeters in diameter, has the number 50 embossed in the center; the smaller, 2 1/2 cm. in diameter, is embossed with the number 25. On the same side as the values are the words "J.W. & Co., Gold Region." The reverse side of the larger token is embossed with an eagle and stars. The reverse side of the smaller one has a Liberty head, stars and the year 1876.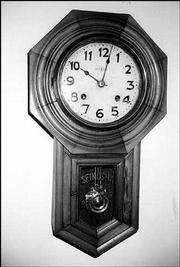 Your tokens are copper and date from the 1870s. They are included in reference books on U.S. trade tokens, but their origin is listed as "not known." A third J.W. & Co. token with a value of 10 was also made. An eagle, identical to the one on your larger token, also appears on an 1870s token issued by Henry Stephens & Co., a retailer in St. Helen, Mich. Trade tokens were a popular form of advertising after the Civil War until about 1900. They often served as substitutes for government coins at stores, hotels, saloons and billiard halls. Price books value the tokens at about $50 each.
Note: We heard from a reader interested in our column about talking dolls. The reader explained that his father, Ted Duncan, patented and manufactured talking units used in the 1950s by several toy companies, including Ideal, Gund, Carnival, Ohio Art and Mattel. Duncan's wife's voice was featured on most of the units, which were operated by a crank. Duncan's own laugh was used for the laughing toys.
Tip
A magnet will not be attracted to solid brass. It will cling to brass-plated iron.
The Kovels answer as many questions as possible through the column. By sending a letter with a question, you give full permission for its use in the column or any other Kovel forum. Names and addresses will not be published. We cannot guarantee the return of any photograph, but if a stamped envelope is included, we will try. The volume of mail makes personal answers or appraisals impossible. Write to Kovels, (name of your newspaper), King Features Syndicate, 888 Seventh Ave., New York, NY 10019.
Copyright 2018 The Lawrence Journal-World. All rights reserved. This material may not be published, broadcast, rewritten or redistributed. We strive to uphold our values for every story published.