Charlotte, N.C. — Wali Lundy spent most of his life chasing Avon Cobourne. In their first head-to-head meeting, he finally passed him.
Lundy scored four touchdowns and gained 239 all-purpose yards, helping Virginia snap a four-game bowl losing streak Saturday with a 48-22 victory over No. 15 West Virginia in the inaugural Continental Tire Bowl.
Cobourne, who was four years ahead of Lundy at Holy Cross High School in southern New Jersey, ran for 117 yards and two touchdowns for West Virginia.
"Growing up, a lot of people always tried to measure me against him," Lundy said. "I never did. I always tried to be my own player."
Before he could finish talking about his days following Cobourne, Virginia coach Al Groh interrupted his freshman.
"I don't think this guy needs to measure himself against anybody," Groh said. "He's going to be a big-time player."
Lundy, who came in averaging 53.8 yards rushing and 27.6 receiving, ran for 127 and caught five passes for 76 yards. He scored touchdowns on runs of 4 and 31 yards. He caught a 14-yard TD pass from Marques Hagans and a 48-yard TD pass from Matt Schaub.
Cobourne, who said he barely knows Lundy, still praised his performance.
"He played well. I mean, he represented," Cobourne said. "He's got the talent, he started as a freshman, so I knew he had it in him. I was hoping he wouldn't unleash it today."
Schaub, the ACC player of the year, threw for 182 yards and a score and Hagans returned a punt 69 yards for his second touchdown as the Cavaliers (9-5) won their first postseason game since the 1995 Peach Bowl.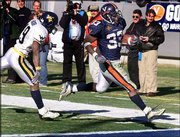 Virginia did an excellent job slowing down Cobourne, the Big East's all-time leading rusher, who came into the game averaging 141 yards a game.
He ran for 54 in the first quarter and scored on a 6-yard run but didn't gain a single yard in the second quarter. He finished with 117 yards -- the 28th 100-yard game of his career.
Cobourne added a 1-yard touchdown in the fourth quarter, but a 2-point conversion attempt by the Mountaineers (9-4) failed, and the TD only cut the score to 41-22 with 7:17 to play.
Cobourne ended his career with 5,039 yards, ninth-best in NCAA Division I-A history. But it was the bowl win he most wanted to prove that the Mountaineers deserved to be in a bigger bowl. They were passed over for the Gator Bowl despite finishing second in the Big East when officials took Notre Dame.
"It sure was a bad way to end a good year," said West Virginia coach Rich Rodriguez, who turned the Mountaineers around from a 3-8 record last season.
Copyright 2018 The Associated Press. All rights reserved. This material may not be published, broadcast, rewritten or redistributed. We strive to uphold our values for every story published.