Baghdad, Iraq — Iraq delivered a list to United Nations officials Saturday naming more than 500 scientists who have worked on nuclear, chemical, biological and missile programs, a U.N. official said.
The list is a key demand under the U.N. resolution aimed at forcing Iraq to verify it has no weapons of mass destruction. In the tough new sanctions regime, inspectors are allowed to speak to the scientists in private, which Washington hopes will prompt a scientist to reveal hidden programs.
"Today we have received from the Iraqi National Monitoring Directorate a list of names of personnel associated with Iraq's chemical, biological, nuclear and ballistic missile programs," U.N. spokesman Hiro Ueki told reporters during a press conference. The list contained more than 500 names, he added.
Though inspectors have been speaking to engineers and experts at sites they have searched, they made their first request to interview a scientist privately on Tuesday.
However, the scientist, Sabah Abdel-Nour, who had worked on a nuclear program that Iraq says is now closed, refused to see the inspectors alone and insisted on the presence of Iraqi officials.
Inspectors are allowed under Security Council Resolution 1441 to take willing scientists out of the country to interview them. Iraqi officials have said they don't think that would be necessary but would allow it if a scientist consented.
The Bush administration has threatened to attack Iraq unless it cooperates fully with the U.N. disarmament process.
If Iraq can convince the inspectors it is not hiding nuclear, chemical and biological weapons or the missiles to deliver them, it might avoid a U.S. strike. But the inspectors have said an Iraqi weapons declaration is wanting, and the United States has dismissed it as a lie.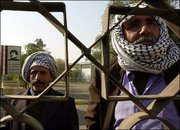 Thousands of U.S. troops, two aircraft carrier battle groups and scores of combat aircraft have received orders since Christmas to ready themselves to head to the region in January and February, American defense officials said Friday.
The U.S. military personnel will go to Kuwait, Saudi Arabia, Qatar, Oman and Bahrain, among other locations near the Persian Gulf.
The Iraqi government scoffed Saturday at the plans to deploy. "Whoever dares to strike Iraq and its people will pay a high price," the official Iraqi army newspaper, Al-Qadissiya, said in an editorial.
"The beating of war drums, the noise of weapons, the sending of warships, the mobilizing of armies will neither frighten nor terrorize the Iraqis," said the paper.
Copyright 2017 The Associated Press. All rights reserved. This material may not be published, broadcast, rewritten or redistributed. We strive to uphold our values for every story published.