EAST RUTHERFORD, N.J. — After spending four quarters trying to give away a wild-card berth, the New York Giants got one anyway -- courtesy of the Philadelphia Eagles.
Matt Bryant kicked a 39-yard field goal 5:10 into overtime, and the Giants capped a late-season run to the postseason by beating the Eagles 10-7 Saturday.
"This was a reflection of our whole season," said Giants safety Shaun Williams, whose interception set up the game-winning kick. "A lot of bad things happened but we just kept fighting."
The Giants (10-6) overcame four turnovers, including three lost fumbles by Tiki Barber, and a missed field goal to win their fourth straight. Barber ran for a career-high 203 yards, helping the Giants return to the playoffs for the first time since 2000.
Coach Jim Fassel's team also was very lucky on a day it also lost two touchdowns because of holding penalties.
Eagles Pro Bowl kicker David Akers missed a potential game-winning 35-yard field goal attempt with 1:16 left in the fourth quarter, a try set up by Barber's third fumble.
It not only cost Philadelphia (12-4) the game, it may end up costing the NFC East champions home-field advantage for the playoffs.
"We can take this game and get rid of it and look to the playoffs," said Eagles linebacker Levon Kirkland. "I think you need to take care of your own business. Wherever the NFC title game is, we'll go down there and take care of business."
Philadelphia, which got a 20-yard TD run by receiver James Thrash on a double reserve on their first series, still can clinch home field if the New York Jets beat the Green Bay Packers today on the same Meadowlands field. It should not have come down to that.
"I have one word for you," said a testy Akers, who was already dressed when the media got to the locker room. "I missed. That's all I have to say to you."
When asked to explain what caused only his fourth miss of the season, Akers asked reporters whether they spoke English.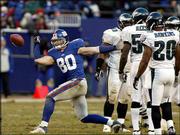 "I told you I missed," he said, later adding, "Have a merry!"
There was much more merriment in the Giants locker room after they tied the game on a 7-yard fourth-quarter TD catch by Jeremy Shockey and then won in overtime.
Turnovers aside, the Giants may have played their best game of the season in beating the Eagles.
New York outgained Philadelphia 461 yards to 209 and held the ball for 39:06.
Barber carried 32 times in setting a career high for rushing yards. Collins completed 25 of 35 passes for 256 yards against a defense that came in ranked second overall. Shockey finished with 10 catches for 98 yards, and he provided the emotional lift the Giants have lacked for years.
Shockey tied the game at 7 midway through the fourth quarter when he outleaped Pro Bowl safety Brian Dawkins on a 7-yard fade pattern.
The Eagles won the toss in overtime and took the ball. On the third play, A.J. Feeley's pass was intercepted by Williams at the Giants 37 with 13:43 left.
New York took over and Barber ran around right end for 7 yards. At the end of the play there was a late hit by Troy Vincent, and the 15-yard penalty moved the ball to the Eagles 41.
Barber had a 10-yard run, then another heart-stopping fumble at the Philadelphia 23, but he recovered it himself.
Two plays later, Bryant, who had bounced a PAT off the right upright after the Shockey TD, kicked the game-winner, sending the crowd into a frenzy.
"I told myself just relax, trust yourself," Bryant said. "I caught a big chunk of turf and I hit it good."
Copyright 2018 The Associated Press. All rights reserved. This material may not be published, broadcast, rewritten or redistributed. We strive to uphold our values for every story published.