Tempe, Ariz. — Miami and Ohio State have perfect records for the same reasons: Both are not only good, they're lucky.
No matter how much talent they put on the field this season, the ball always seemed to bounce the right way at precisely the right time for the top-ranked Hurricanes and the No. 2 Buckeyes.
The results delivered exactly what college football craves -- a true national championship game in the Fiesta Bowl on Jan. 3 between the only teams to make it through the season without a loss.
Perfection, though, didn't come easily.
Maurice Clarett, Ohio State's freshman tailback, nearly hyperventilated in the final minutes of a 10-6 win over Purdue on Nov. 9.
"It was crazy. Crazy." Clarett said moments after Craig Krenzel's 37-yard touchdown pass on fourth down with 1:36 left lifted the Buckeyes to victory.
Ken Dorsey, Miami's superb quarterback, couldn't even watch the final play of the Hurricanes' 28-27 win over Florida State on Oct. 12. When Xavier Beitia's 43-yard field goal attempt missed wide right, Miami's Willis McGahee told Dorsey what happened.
A play here and a play there. That's how close Miami (12-0) and Ohio State (13-0) came to defeat. And those were just two close calls. There were plenty of other scary moments on the road to the Bowl Championship Series' national title game.
Ohio State won six games by seven points or fewer, including its last three: the Purdue game, followed by a 23-16 overtime victory over Illinois and a 14-9 decision over Michigan.
Miami had three quarters' worth of trouble before pulling away from West Virginia and lowly Rutgers. And then there was a 28-21 win over Pittsburgh, secured only after Rod Rutherford's final-seconds, fourth-down pass into the Hurricanes' end zone sailed over Yogi Roth's outstretched arms and fell incomplete.
"The season has been so difficult for us," said Dorsey, who threw for 3,073 yards and 26 TDs and is 38-1 as a starter. "There have been so many ups and downs. One week we're the best team in the country, and the next week we're going to lose to god only knows who. It's been such a roller coaster."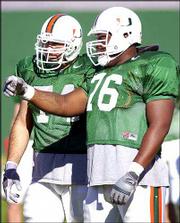 Miami, in its second season under coach Larry Coker, was expected to return to the title game and was ranked No. 1 in the AP preseason poll. Ohio State, in Jim Tressel's second season, was No. 13 and not even favored to win the Big Ten Conference.
Coker, 24-0 since taking over for Butch Davis, is well aware close calls are part of the mystique of reaching national-champion status.
"Yeah, we've had some narrow escapes," Coker said, "and if you look around the history of some of the national-championship games, almost every national champion has some narrow escapes."
Take last season. Miami pulled out close games against Boston College and Virginia Tech en route to winning its fifth national championship. Coker remembers another.
"When I was in the Big Eight, Colorado was a national champion and I think they won six games coming from behind in the second half," Coker said of his time as an Oklahoma assistant from 1990-92.
The Buckeyes are still trying to earn respect. Despite the best regular season in its 113 years of football, Ohio State is a double-digit underdog in the Fiesta Bowl.
The reasoning is simple: The Buckeyes barely win. There were the early close games -- 23-19 over Cincinnati, 19-14 over Wisconsin and 13-7 over Penn State. The final three games -- Purdue, Illinois and Michigan -- were all nail-biters.
All-American safety Mike Doss summed up his team's season best:
"My stomach wasn't churning. I kept believing -- as a player you're always thinking the best," he said. "But as far as the fans, every week they were saying: 'I'm going to have a heart attack,' Then the next week it was, 'I'm going to have a stroke."'
Copyright 2018 The Associated Press. All rights reserved. This material may not be published, broadcast, rewritten or redistributed. We strive to uphold our values for every story published.