LONE STAR — No, Jere McElhaney isn't trying to build anything on his 10-acre hayfield south of Lone Star Lake.
And just because he used bulldozers to make erosion-slowing terraces, don't go trying to tell him the patch is worth the $22,120 Douglas County says it is.
"It was probably just understandably, mistakenly, taken that we were developing the ground, which we were not," McElhaney said. "It's something I'm going to protest to our county appraiser, and I'll just go through the process just like any other citizen here in Douglas County."
But McElhaney is anything but just another citizen. As chairman of the Douglas County Commission, he's sitting in the top chair of county government.
Both McElhaney and Marion Johnson, the county's longtime appraiser, say they're looking forward to the chance to straighten out the issue.
McElhaney, who filed his formal tax protest last week at the Douglas County Courthouse, said he considered the situation a "miscalculation." Johnson views it as one of 40 or 50 such complaints that will flow through his office in the months ahead.
"We always encourage people to appeal their valuation if they think the value is wrong," said Johnson, who is waiting for the county treasurer to forward him McElhaney's appeal. "They should not appeal just because they don't like the tax bill. Our goal is to get the valuation right."
At stake in McElhaney's case: about $270.
McElhaney's land, located between Lone Star Lake and Globe, is designated as "vacant rural" land on the county's tax rolls. That pegged the property's estimated market value at $22,120, enough to rack up a $301.80 tax bill.
Making hay
But McElhaney asserts the land is used for growing hay. As agricultural land, the same 10 acres would be valued closer to $890 -- or low enough to trigger a bill of about $30.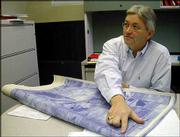 McElhaney agreed to pay his tax bill under protest. Now he's amassing copies of seed bills, labor logs and other supporting materials that could help folks in the appraiser's office see things his way.
"You have to bring in proof, and that's what we'll do," McElhaney said. "I feel pretty confident about it."
Johnson, meanwhile, promises to keep an unbiased mind on the case, just as he does for all 1,100 or so valuation appeals filed each spring and the relative handful -- 193 last year -- of tax payments protested after payment.
Never mind that Johnson, after 22 years of appraising in the county, can't remember another case of a commissioner protesting his tax bill. Or that McElhaney will be one of three votes approving the budget for the appraiser's office at a time commissioners are searching for $1.8 million in cuts.
'Just like any other'
McElhaney's informal protest hearing, likely to come in late January or February, will be heard by a county appraiser, then be eligible to be forwarded to the state's board of tax appeals.
"We don't pay attention to the names," Johnson said. "We just look at the property itself. Who owns it doesn't affect us at all.
"He'll be just like any other property owner. He'll have to bring in documentation that supports his case."
McElhaney said his high office actually might end up hurting his case. He's still waiting for his hearing to be set, while others already are slated for mid-January.
"When you get a job like this, you expect to be put down at the bottom of the list and that's the way it is," McElhaney said. "When it comes to this, I'm just an average citizen. Probably being a commissioner is more of a hindrance than it is anything else, because they're not going to give any -- they're probably going to give less favoritism to a commissioner, just to set the example.
"But, you know, Marion Johnson is very fair. His staff is very good. And it's just like anything else -- there can be misinterpretations, and there can be a mistake. Mistakes happen. No two ways about it. And I'm confident this will be taken care of."
Copyright 2018 The Lawrence Journal-World. All rights reserved. This material may not be published, broadcast, rewritten or redistributed. We strive to uphold our values for every story published.