Cusco, Peru — As a winding road takes us higher and higher into the Andes on a car trip that feels as if we're on our way to visit the heavens, a soft pang knocks at my forehead and a tight heaviness grips my stomach.
At 12,000 feet above sea level, I'm in a rugged land that unfolds before me in endless hues of browns, sad and mystical, like its people. I'm experiencing a slight case of what the natives call Soroche, an aptly poetic term for altitude sickness.
Libio, our driver, stops in a spot where the gravel ends gracefully on orange clay banks. Potent herbs with healing powers grow thick and wild here, he says. He picks a few sprigs from two bushes and hands them to me, giving me simple instructions on how to use them. One cures a headache; the other is used in a tea that settles the stomach.
Incredulous, as life has trained me to be, I indulge Libio and do as instructed with the headache-healing herb. I rub the sprig in my hands, breathe in deeply its minty freshness, then run it across my forehead.
It takes but a minute to feel total relief.
It's my first lesson about the magical powers of this ancient land as I travel from Cusco -- the political, military and religious capital of the ancient empire and the place they believed to be the center of the world -- through the Sacred Valley of the Incas to the legendary sanctuary of Machu Picchu, and in between, to rustic Andean villages with extraordinary archaeological sites and names like Pisac, Ollantaytambo, Urubamba, Chinchero.
After a smooth, one-hour early-morning flight from Lima, the journey begins at the "navel" of it all, in Cusco, but only after I've spent the first few hours in town sleeping, as a preventive measure against full-blown Soroche. Taking it easy the first day is a tough thing to force myself to do after checking into the stunning Hotel Monasterio, a monastery built in 1592 and now turned into an oasis of arched colonial elegance and world-class service.
Archaeological treasures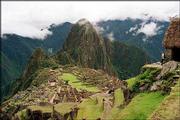 On our first afternoon's run through the archaeological sites closest to Cusco, Libio takes us to the ruins at Saqsaywaman, where enormous walls rise as testament to a mighty empire. One stone has 25 angles; another, at 128 tons, has no equal in the world, according to the local guidebook, "Cusco, Land of the Incas."
To better acclimate ourselves to the altitude, we're advised to travel down into the valley for a two-day trip to Machu Picchu, which sits at 9,000 feet. Then we return to Cusco to explore quaint outdoor markets, shopping districts packed with arts and crafts and streets where colonial architecture blends into Inca walls.
One night in Cusco, walking down a narrow cobblestone street with Marco, my Peruvian-American travel companion, a Quechua boy approaches us: "Can you take me away from here?"
We strike up a conversation. The boy offers to take us to a special wall of many angles. We've been told at the hotel not to stray far from well-lit downtown streets, but we follow the boy, entranced by his tales and his friendliness.
He rewards our trust with a stupendous display of Inca craftsmanship -- a puma sculpted into the wall by a complex positioning of rocks.
The same proves true in Pisac, a town that sits underneath stunning ruins and agricultural terraces some 20 miles from Cusco. The terraces stacked along a grand precipice, on this day shining in shades of mustard against the bluest of skies, are testament to the mastery of the Incas.
All of it is grand and surreal, but none of it compares to the view of Cusco from a lookout point at one of the mountains overlooking the city.
Getting there: Travel agencies and Internet travel service offer a range of package tours to Peru.Getting around: We bought our Perurail round-trip train tickets for the Cusco-Machu Picchu ride at the train station in Cusco for $73. If you plan to buy the tickets the day you travel, you must arrive at the train station no later than 5:30 a.m.We hired a guide, Libio Torres, to tour Cusco and the Sacred Valley of the Incas. He provided personal attention and transportation for two at reasonable rates -- $30 for a 2 p.m. to 7 p.m. afternoon tour, $70 for an entire day. Torres, who speaks only Spanish, can be reached through Hotel Monasterio in Cusco.Accommodations: Peru is a land of natural, rustic spectacles, but there's no need to rough it when it comes to accommodations. Here are some of the most fanciful hotels for the journey to Cusco and Machu Picchu:Hotel Monasterio, Calle Palacio 136, Plazoleta Nazarenas, Cusco; (011-51) 84-24-17-77; www.orient-express.com. It delivers every modern comfort in its gourmet restaurants, 105 rooms and 16 junior suites priced from $240 to $750 a night.Machu Picchu Pueblo Hotel, Machu Picchu Km 110 on the railroad line Aguas Calientes; (011-51) 84-21-11-22. More information and reservations at (011-51-1) 610-0404; www.inkaterra.com. The 85 rooms are decorated with rustic furniture and traditional Inca linens made by local artisans. Room rates per night range from $195 for a standard room to $390 for a suite.Machu Picchu Sanctuary Lodge, Monumento Arqueologico de Machu Picchu, Cusco, (011-51) 84-21-10-39; www.orient-express.com. $305-$335.
As I walk to the edge, a stark-blue sky framing the Andes before me, the city of Cusco sits below -- an infinite collection of tiny barrel tile roofs bordered by a mountain range. From here, the cathedral with the altar made of solid gold and the quaint Plaza de Armas look like pieces of a board game. High above the city, all along one of the central mountains, for the world to see, is the proud inscription: "Viva el Peru."
Machu Picchu
The height of a visit to these highlands is, no doubt, the trip to the spectacular archaeological site of Machu Picchu, discovered for the rest of the world by the American historian Hiram Bingham in 1911.
From Lima, a three-hour train ride takes us from the sierra to the selva, the junglelike surroundings of Machu Picchu, the Urumbamba River at its feet, sometimes docile, sometimes in a bit of a fury.
As soon as we arrive in Aguas Calientes, the town below Machu Picchu, we check into the jungle-inspired Machu Picchu Pueblo Hotel, which has one of the largest orchid collections in the world and an unequaled rustic beauty. As soon as we settle in, we walk across the tiny town to the bus station for a ride up a winding mountain road to Machu Picchu.
No matter how many pictures you see, no matter how much you read about it, nothing can prepare you for the sight of the legendary Lost City of the Incas: mazelike ruins, separated by a series of plazas, stretch amid green fields where llamas roam and wild orchids and bromeliad flourish.
It is no cliche: This is a one-of-a-kind place, so close to infinity, so unique and sacred, that it draws you inward and moves you to reflection. Our first view is made even more mystical by the cloud covers playing hide and seek with the mountain peaks surrounding the ruins.
Under the lightest drizzle, we tread through one of the muddy trails to reach the famous Inca bridge, at one side of us nothing but precipice hidden by clouds. But we must return the next day of clearer skies to see the little bridge built many centuries ago to provide restricted access to Machu Picchu.
Colonial influences
Back in Cusco for another round of tours, the last stop of our run through the valley takes us to Chinchero, a town about 20 miles northwest of Cusco. In Inca times, it was a stop on the trail to Machu Picchu but was substantially destroyed by the Spaniards and the Manqo Inca who set it on fire before fleeing.
It is late into the afternoon, and the sun is close to setting when I walk up to a plaza framed by a simple but lovely colonial church, part of it built on Inca walls. Some of the lovely frescoes painted on the outer church walls are peeling, close to disappearing, and the sight of it is heartbreaking.
Marco and Libio pull ahead of us, talking about the colonial influences in Chinchero, the artworks inside the church we cannot see because it's already closed.
On the road back to Cusco, the car winds around the mountain road and another unforgettable sight appears. We coax Libio into stopping on this deserted road for one last picture.
I stand before the snow-showered peaks of the Andes. They tower behind me like a warm embrace. The barren beauty of these heights gives your heart pause. And I remember the billboard I first saw driving into Cusco from the airport: "Soroche means you are closer to God."
Copyright 2018 The Lawrence Journal-World. All rights reserved. This material may not be published, broadcast, rewritten or redistributed. We strive to uphold our values for every story published.