OAKLAND, CALIF. — The Oakland Raiders worked their "bad weather plan" to near perfection.
They just ran and ran and ran.
Charlie Garner made running in deep puddles and a steady downpour look easy, successfully cutting from side to side and grinding out yards in the Raiders' 24-0 victory over the Kansas City Chiefs on Saturday.
Garner carried 29 times for 135 yards and a touchdown as the Raiders (11-5) locked up the top seed for the AFC playoffs as well as a much-needed bye they will use to get healthy. They shut out the Chiefs for the first time in franchise history -- they've played 88 times overall.
"I pride myself in being able to go out and run the football in any conditions," said Garner, who for the first time since coming from across San Francisco Bay from the 49ers last season was not limited in his carries.
"Ever since I came over I wanted (that chance). It didn't present itself until today," he said. "When it does, you take it."
The Chiefs (8-8) had to win and have several other teams help them in order to make the playoffs. They missed the postseason for the fifth straight year.
The Raiders' victory also gave Indianapolis a playoff spot as a wild-card team, and suddenly the clogged-up AFC playoff picture is becoming a little more clear.
Rich Gannon completed four of his first five passes, but finished 7-for-14 for a season-low 79 yards and a touchdown.
Gannon needed 475 yards to break one of the league's most prestigious records: Dan Marino's 5,084 yards passing in 1984. Gannon, one of the favorites for the NFL MVP, also fell short of becoming only the second quarterback to go over 5,000 yards in a season. He needed 390 to do that.
"It's fine with me," Gannon said. "That was not really my focus."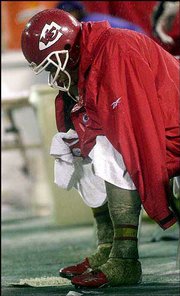 Garner ran 1 yard for a score early in the second quarter, then on Kansas City's next possession, Rod Woodson intercepted Trent Green to set up another Oakland touchdown -- a 15-yard TD from Gannon to Doug Jolley.
Zack Crockett added an 8-yard scoring run in the fourth quarter and Sebastian Janikowski kicked a 27-yard field goal.
Kansas City played without star running back Priest Holmes, who was sidelined with a hip injury, and it hurt not having him. Holmes leads the league with 2,287 yards from scrimmage.
The Chiefs managed just 63 yards in the first half -- 22 rushing -- and only 21 offensive plays to the Raiders' 39. The Chiefs also had just three first downs before halftime.
Kansas City did not reach the red zone until the final play of the game when players were already walking onto the field from the sidelines. The Chiefs failed on fourth down at the Raiders' 38 in the third quarter and at the 30 in the fourth.
"The offense sat there on the sideline and got cold and wet, and then when we got back in there, we couldn't get in a rhythm," Chiefs receiver and kick returner Dante Hall said.
The rain fell hard from the start. The field was so soaked before kickoff the Raiders logo in the middle of the field smeared and paint was spread for several yards. The south end zone was a pool, along with one 10-yard area of the field on the other end.
Whenever players went down, they typically slid at least 5 yards and came up with grass and mud stuck in their facemasks.
But the Raiders surely prefer these conditions over the thought of having to make another playoff trip to the frigid Northeast, where they were eliminated last season in a snowy, disputed playoff loss to eventual Super Bowl champion New England.
Saturday's win avenged a 20-10 loss at Kansas City two months ago -- Oakland's lowest scoring output of the year.
The Raiders have been striving for offensive balance, and they're finally getting it. For two straight weeks, the running game has carried them. In a 28-16 win over Denver that earned the Raiders their third straight division title, Oakland used six straight running plays in one touchdown drive.
On Saturday, Oakland ran for 280 yards, only the team's second game over 200 this year and the first since its season-opening win against Seattle. Aside from Garner, Crockett rushed for 72 yards and Tyrone Wheatley 69.
"We got here with the pass, and now we can finish it with the run," left tackle Barry Sims said.
The rain added a degree of artistry, too.
In Oakland's first offensive series, Gannon completed a 3-yard pass to Terry Porter that looked more like a two-handed chest pass in basketball while he was being dragged down by linebacker Scott Fujita.
The conditions also made for a more colorful stadium. While there were plenty of Silver and Black rain ponchos with Raiders logos, there was also a nice mix of yellow, blue, green and orange -- a rare sight among the Raider Nation.
"It was tough, especially at the end of the game when it was all slop," Chiefs center Casey Wiegmann said, mud still caked on his face. "They're not going to cancel the game because of it."
Notes: Woodson's interception gave him 69 for his career, moving him into third place on the NFL's all-time list. ... Kurt Warner passed for 4,830 yards last year for the second-best season after Marino. Gannon is third with 4,689. ... Crockett had a career-best 33-yard run in the fourth quarter. ... Gannon's previous passing low this year was 164 in an overtime loss to San Francisco. ... The Chiefs were last shut out on Sept. 25, 1994, by the Los Angeles Rams.
Copyright 2018 The Associated Press. All rights reserved. This material may not be published, broadcast, rewritten or redistributed. We strive to uphold our values for every story published.