Baton Rouge, La. — Second-ranked LSU passed its first big test of the season with an easy win Saturday.
Aiysha Smith scored 19 points and DeTrina White added 16 as the Tigers beat No. 15 Texas, 76-58. Texas was just the third team with a winning record that LSU has played this season.
"We feel like we can score down low," coach Sue Gunter. "We made a conscious effort to look inside in the second half, but we were also able to rebound and got some transition baskets because we played better defense."
Heather Schreiber led all scorers with a career-high 20 points for Texas (6-3).
LSU (10-0) shot 48 percent from the field in the first half, then improved to 54 percent in the second. Texas shot 39 percent in the first and 33 percent in the second.
LSU trailed 37-28 early in the second half, then outscored Texas 34-12 in the final 11 minutes. The Tigers held Texas' leading scorer, Stacy Stephens, to just six points in the game and no field goals in the second half.
LSU also hit 21-of-28 free throws in the second half. Texas took just 13 trips to the line in the second, hitting nine free throws.
"We shot the ball much better in the second half, and we got to the free-throw line, which is what LSU teams are supposed to do," Gunter said.
Texas scored six unanswered points in the first 90 seconds of the second half, but LSU had seven consecutive points in a two-minute stretch to pull to 37-35. LSU had a 13-0 run to go ahead 69-52 with just under three minutes remaining.
Texas never put together a comeback.
"I think when they went on their run, we fell apart," Schreiber said. "We tried to hurry up and score on the offensive end rather than looking for the best shot."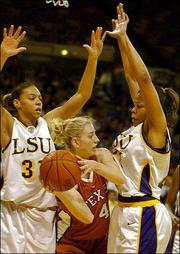 No. 4 Kansas State 63, Northern Illinois 58
Dekalb, Ill. -- Kendra Wecker scored 25 points and grabbed 10 rebounds for Kansas State (11-1). Chelsea Domenico scored 20 points and Megan Mahoney added 13 for the Wildcats, who led 29-28 at the half. Four players scored in double figures for Northern Illinois (4-6), led by Kim Boeding's 15 points. Stephanie Smith scored 14 points for Northern Illinois, while Kristan Knake added 12.
No. 8 Texas Tech 86, Southern Mississippi 62
Hattiesburg, Miss. -- Cisti Greenwalt had 21 points and a career-high 11 rebounds as Texas Tech won its eighth straight game. Jia Perkins added 20 points for Texas Tech (8-1). Tierra Lassiter led Southern Mississippi (6-5) with 12 points. Texas Tech led by three points midway through the first half, but pulled away with an 18-7 run.
No. 19 Oklahoma 87, Southeast Missouri 59
Norman, Okla. -- Theresa Schuknecht had 23 points and eight rebounds, and Dionnah Jackson added 20 points to lead Oklahoma. Maria Villarroel added 13 points for the Sooners (9-3). Kenja White led Southeast Missouri (6-4) with 21 points, and Lori Chase had 14 points and five rebounds.
Baylor 108, Mercer 55
Waco, Texas -- Steffanie Blackmon had 25 points and 10 rebounds, and Melanie Hamerly added 20 points on 9-of-11 shooting as Baylor beat winless Mercer. Blackmon, Jessika Stratton and Sophia Young all had double-doubles for Baylor (10-1), which led 56-31 at halftime. Amanda Parker led Mercer (0-8) with 14 points. April Dyer added 13 points and nine rebounds.
Copyright 2018 The Associated Press. All rights reserved. This material may not be published, broadcast, rewritten or redistributed. We strive to uphold our values for every story published.