Seoul, South Korea — In a defiant declaration that triggered alarm in foreign capitals, North Korea said Sunday that it had begun removing U.N. seals and surveillance cameras from nuclear facilities that U.S. officials say could yield weapons within months.
The U.N. nuclear watchdog, which has been monitoring the facilities, said Pyongyang had unsealed a spent fuel storage chamber that holds 8,000 irradiated fuel rods.
"As the spent fuel contains a significant amount of plutonium, (North Korea's) action is of great nonproliferation concern," Mohamed ElBaradei, director-general of the International Atomic Energy Agency, said in a press release Sunday.
The United States and its allies urged the communist country to rescind its decision. "The 8000-odd spent fuel rods are of particular concern because they could be reprocessed to recover plutonium for nuclear weapons," State Department spokesman Lou Fintor said.
Pyongyang's announcement raised fears of a nuclear crisis on the Korean Peninsula similar to one involving the same facilities in 1994. At that time, many officials in Seoul and Washington believed there was a heightened possibility of war with North Korea.
Conflict was averted when North Korea agreed to freeze the facilities in a deal with the United States, but it said Dec. 12 that it planned to reactivate them to produce electricity. The removal of U.N. monitoring devices appeared to be the first step in that process.
North Korea said the Vienna-based IAEA failed to respond to its request to remove the equipment, compelling it "to immediately start the work of removing the seals and monitoring cameras from the frozen nuclear facilities for their normal operation to produce electricity."
The IAEA said in its Sunday statement that the seals and surveillance equipment had been removed from the spent fuel pond, which stores the fuel rods, at the 5-megawatt, Soviet-designed reactor in Yongbyon, 50 miles north of Pyongyang.
"Without our equipment, we cannot monitor their nuclear inventories and therefore cannot provide assurances that they are not producing material for nuclear weapons," Mark Gwozdecky, IAEA spokesman, told The Associated Press.
ElBaradei said in the statement that it was "deplorable" that Pyongyang had not responded to his requests for "an urgently needed discussion on safeguards issues."
Fintor, of the U.S. State Department, said the 8,000 spent fuel rods had "no relevance" for generating electricity. Their unsealing "belies North Korea's announced justification to produce electricity," he said.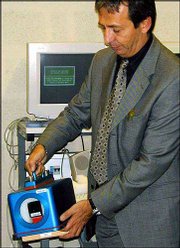 Security experts believe North Korea made one or two nuclear weapons using plutonium it extracted from the Yongbyon reactor in the 1990s. Now there are fears it will reprocess plutonium fuel rods that were separated from the Yongbyon reactor, and later stored under supervision by IAEA inspectors.
"They're going to be able to build four to five additional nuclear weapons within months if they begin that reprocessing operation," Sen. Joseph Biden , D-Del., said on "Fox News Sunday."
Biden, the outgoing chairman of the Senate Foreign Relations Committee, said the North Korean nuclear issue was a greater threat to U.S. interests than Iraqi leader Saddam Hussein.
The United States, which is preparing for a possible war against Iraq, says it seeks a diplomatic solution to the North Korean nuclear issue.
North Korea must "allow the IAEA to replace or restore the seals and cameras that the North damaged," Fintor said.
Reactivating the nuclear facilities "would fly in the face of the international consensus," he said.
In a telephone conversation Sunday, Secretary of State Colin Powell and South Korean Foreign Minister Choi Sung-hong called for close cooperation with Russia and China on pressuring North Korea, Choi's ministry said.
"It has been our consistent position that we will not tolerate North Korea's nuclear activities," said Shim Yoon-jo, director of North American affairs at the Foreign Ministry.
"For our country, this is worrisome," the Japanese Foreign Ministry said. The French Foreign Ministry said it "deplores the new initiative of North Korea."
The announcement by the North's state-run news agency, KCNA, was part of a dispute that has been escalating since October, when U.S. officials said North Korea admitted it had a secret nuclear weapons program based on uranium enrichment.
The program violated several nuclear arms control agreements, and Washington and its allies suspended shipments of heavy fuel oil to the energy-starved country that were required under the 1994 deal. Instead of giving up its nuclear program, Pyongyang said it had no choice but to revive old nuclear facilities that were frozen under the same agreement.
The North Korean news agency referred to its earlier appeal for a nonaggression treaty with the United States, saying the North "made it clear that the issue of refreezing its nuclear facilities entirely depends on the attitude of the U.S. side."
The United States, however, says North Korea must take steps to abandon nuclear development ahead of any talks. The U.S. position differs from that of South Korean President-elect Roh Moo-hyun, who advocates dialogue as a way to resolve the problem.
Copyright 2018 The Associated Press. All rights reserved. This material may not be published, broadcast, rewritten or redistributed. We strive to uphold our values for every story published.