Crown-top perfume bottles are easy to identify because each one has a stopper topped with a small metal crown.
They were made from the 1890s to about 1939 in Germany and a few other countries. Sometimes the shape of the stopper helps identify the maker.
A Dutch perfumer, J.C. Boldoot, used a barrel-shaped stopper. Other crown-tops can be identified from an incised trademark on the bottom of the bottle or by finding an old catalog that pictures the bottle. German makers included the Sitzendorf factory, which marked bottles with an "S" under a crown; the W. Goebel factory, which used the mark "WG" under a crown; and Schneider, which used a "G" with two lines through it. Unmarked bottles were produced by the Hertwig Co., and the Shafer and Vater factory made a group of unmarked comic crown-top figural bottles. Crown-tops sometimes marked "Delft" were made in Holland, and others were made in England or Japan.
One appealing pair made by Goebel are called Pierrot and Pierrette, characters in a French pantomime.
For Christmas in 1960, I received a black doll that looks just like Barbie. I was 7 years old at the time, and I don't have the original box. I think the doll was named Barbette. I still have the carrying case, which is trademarked Mattel 1959. Can you help identify this doll for me?
Your doll is a mystery. If you are correctly remembering the year you received the doll, it was not a black Barbie. Mattel introduced the first black doll in the Barbie family in 1967. That doll was a black version of Francie, Barbie's cousin. Francie had been introduced as a white doll in 1966. The first black Barbie was not sold until 1980. We cannot find any reference to a Barbette doll that looks like Barbie. Check the marks on your doll's body. You might have an original Barbie from 1959 whose skin has darkened over the decades.
My mother left me a glass bottle shaped like a Christmas tree. The stopper is star-shaped. I think my mother bought it shortly before she died in 1975. I haven't found any information on Christmas tree bottles. Can you help?
During the 1960s and '70s, several American companies sold products like beverages or cologne in glass or ceramic bottles shaped and decorated like Christmas trees. This was during the height of collector interest in modern figural bottles. Check for any marks on your bottle. Ezra Brooks, Michter's and Mike Wayne are three of several distilleries that might originally have sold your bottle. These Christmas tree bottles sell for $20 to $50.
I recently purchased a rose-colored cloth Kewpie doll at an estate sale. It is 12 inches tall, with a label that reads "King Innovations Inc., Mfrs. N.Y., Kewpie Trademark Copyright Rose O'Neill." Can you give me any information about the age and value of this doll?
Rose O'Neill (1874-1944) designed Kewpies for a series of drawings in two women's magazines. They appeared from 1909 through the 1920s in Women's Home Companion and Ladies' Home Journal. Kewpies were so popular that by 1911, dolls and figurines reached the market. King Innovations made cloth Kewpies like yours between about 1926 and 1936. They came in five sizes, ranging from 9 inches to 22 inches. Your doll could sell for about $300 if it's in mint condition.
About 35 years ago, we bought an antique brass double bed at a house sale. The bed was so tarnished that you couldn't even tell it was brass. We had it professionally polished and dipped, and we now use the bed in our house. The headboard is 62 inches high, and the footboard is 38 inches high. Each board has five vertical bars between the rounded end bars. I've searched the Internet but can't find any brass beds with rounded corners. Can you tell me when the bed was made and what it's worth?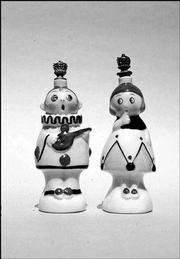 Early 19th-century metal beds were cast iron. Starting about 1860, brass gradually took over. It was easier to work with and more attractive. Early brass beds were heavily ornamented and had square corners. Tubular brass beds like yours, with rounded corners and simple designs, were typical of those made from about 1890 to 1920. Brass beds from that era can be found with rods assembled in various patterns. A polished bed sells for more than a tarnished one. A buyer wants the brass to be shiny and clean, even if the finish is not original. Prices for antique brass beds range from a few hundred dollars to more than a thousand dollars.
Tip
Dust Christmas ornaments after removing them from the tree. Do not store them with dust on them. Wrap each ornament individually in paper.
¢
The Kovels answer as many questions as possible through the column. By sending a letter with a question, you give full permission for its use in the column or any other Kovel forum. Names and addresses will not be published. We cannot guarantee the return of any photograph, but if a stamped envelope is included, we will try. The volume of mail makes personal answers or appraisals impossible. Write to Kovels, (name of your newspaper), King Features Syndicate, 888 Seventh Ave., New York, N.Y. 10019.
Copyright 2018 The Lawrence Journal-World. All rights reserved. This material may not be published, broadcast, rewritten or redistributed. We strive to uphold our values for every story published.