Perry — Trailing DeSoto High by four points at halftime, Perry-Lecompton coach Pat Hupfauf told his winless boys basketball team to stay calm.
The Kaws listened, outscoring the Wildcats by 18 points in the second half and earning their first victory of the season, 57-43.
"We talked about seeing the game slowly and not playing the scoreboard," Hupfauf said of his halftime talk. "We told our kids to just play the possession and do the best they could and not to get wrapped up in the score. We just played good defense and came down and tried to get a good shot. We were patient."
That patience paid as the Kaws (1-3) made 16 of 32 field goals after halftime, including 8-of-11 shooting from junior Spencer Kennedy.
The 6-foot-7 center had just three points and a rebound in the first half, but had 17 of his game-high 20 points and 11 rebounds in the second half.
"We know that the team who controls the third quarter is the team that's going to win the game," Kennedy said, "so coach told us to get out there and show the crowd what we could do. That's what we did and we came out with the W."
Kennedy scored 11 points in the final quarter, including two points on a one-handed dunk over two Wildcats with three minutes left. He nearly had another dunk on a breakaway a minute later, but settled for a layup after losing his grip.
The Kaws spent much of the second half under the basket, scoring the majority of their points in the paint. Solid shooting and just 13 turnovers helped Perry-Lecompton snap its three-game losing streak.
Ryan Brown led DeSoto (1-3) with 17 points, and Danny Brown added 14.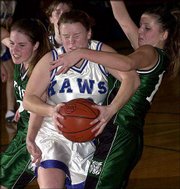 DeSoto girls 52, Perry-Lecompton 46
Fourth-quarter free throws were the difference in DeSoto's victory.
The Wildcats (3-1) were 14-of-18 from the line in the final 41/2 minutes, while the Kaws went 11-of-16 during that time. The free throws were an appropriate decision-maker considering Perry-Lecompton (0-4) had more than twice as many fouls (23) as field goals (9), and DeSoto had nearly twice as many fouls (30) as field goals (17).
"It was nice to hit those free throws down at the end and get a little confidence going into Christmas and a big momentum ride going into second semester," DeSoto coach Dwight Spencer said.
Junior forward Allie Heinen led the Wildcats' rally from a 29-26 deficit after three quarters. She scored 18 of her 22 points and grabbed six of her eight rebounds in the final period.
Heinen spent much of the second half battling the Kaws' Shannon Wilson, who scored a game-high 30 points.
Copyright 2018 The Lawrence Journal-World. All rights reserved. This material may not be published, broadcast, rewritten or redistributed. We strive to uphold our values for every story published.