Roy Williams isn't the only Kansas University basketball coach with a team suffering from beyond the three-point arc.
Marian Washington's women's basketball team has had its own problems from long distance, hitting just more than 30 percent (19-63) of its three-point attempts.
Opponents have made nearly 37 percent (47-128) of their three-pointers, including nine by Creighton in last Saturday's 72-58 defeat of the Jayhawks (4-3).
Kansas may have that problem solved today against the University of Missouri-Kansas City when Stacey Becker dons a Jayhawk uniform for the first time in a game.
Becker, a sophomore transfer from Wichita State University, is eligible to play for Kansas now that the fall semester is over. Her marksmanship from behind the three-point arc could be crucial for the Jayhawks.
"She's a good outside shooter, so we think she will definitely help us when we face zones," said coach Marian Washington, whose team meets UMKC at 2 p.m. in Municipal Auditorium in Kansas City, Mo.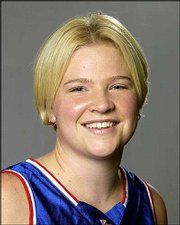 Becker averaged 3.5 points in two games for the Shockers last season, hitting one of five three-pointers, before leaving the team. She was McPherson High's all-time leading scorer and was twice the Ark Valley League most valuable player.
"It's going to be a big help," Washington said of Becker's three-point shooting ability. "The players have responded ... and they can find her open. Yesterday she nailed every one of them. I think it's just another element that will help them with their confidence."
On a three-game losing streak, the Jayhawks shouldn't have to worry much about long-range shooting from the Kangaroos, who have made less than 27 percent of their three-point shots.
When: 2 p.m. today.Where: Municipal Auditorium in Kansas City, Mo.Records: Kansas 4-3, UMKC 3-5.Series: KU leads 9-1.Last Meeting: KU won 70-56 on Dec. 20, 1997 at Kansas City, Mo.
The Kangaroos, 3-5 after going 7-21 last season, could be a dangerous opponent, though. They average 62.5 points per game, while Kansas averages just less than 62 points, even with an 83-point outing against Texas Southern.
"I'm sure that they're going to be hungry, but we're going to be hungry also, in that it's time for us to get back on the winning side of things."
Copyright 2018 The Lawrence Journal-World. All rights reserved. This material may not be published, broadcast, rewritten or redistributed. We strive to uphold our values for every story published.