New York — The NL East race just got a little more competitive.
The Phillies and Mets kept up their offseason dealing Friday, with Philadelphia acquiring right-hander Kevin Millwood from Atlanta and New York agreeing in principle to a $26 million, four-year deal with outfielder Cliff Floyd.
It was a busy day in baseball. Fred McGriff agreed to a one-year deal with Los Angeles, Sandy Alomar Jr. signed a $700,000 deal with the Chicago White Sox, shortstop Mike Bordick agreed to a $1 million deal with Toronto, lefty Shawn Estes finalized a $3 million deal with the Cubs, and Charles Nagy signed a minor league deal with San Diego.
Also, All-Star Robert Fick, World Series champion designated hitter Brad Fullmer, Jose Cruz Jr. and Shane Spencer all became free agents when their teams did not offer them contracts for 2003.
Locally, the Kansas City Royals reached one-year agreements with outfielder Mark Quinn and second baseman Carlos Febles. Febles will receive $750,000 and Quinn will get $500,000.
The Royals also announced they did not offer salary arbitration to pitchers Jeff Suppan and Chad Durbin, making them both free agents.
Suppan had the second-most wins on the Royals in 2002 behind Paul Byrd, who signed with the Braves on Tuesday. Suppan was 9-16 with a 5.32 ERA in 33 starts. Durbin was 0-1 with an 11.88 ERA in two starts.
But the biggest news came in the NL East.
After watching the Braves run away with yet another division title this year, the Phillies and Mets have been two of the busiest teams this offseason.
The Phillies finished just two games behind Atlanta in the NL East in 2001 but faltered last year, finishing 211/2 games out.
Philadelphia already committed $102 million to free-agent first baseman Jim Thome and third baseman David Bell, but missed out on pitchers Tom Glavine and Jamie Moyer.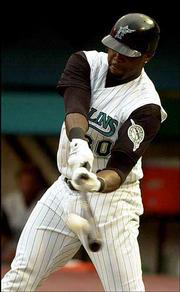 With the Braves looking to shed salary and unload an extra starter, the Phillies gave up catcher Johnny Estrada for Millwood.
"He had electric stuff last year," Phillies manager Larry Bowa said of Millwood. "He had the best stuff on that staff."
Millwood was 18-8 with a 3.24 ERA last season, helping the Braves win an unprecedented 11th straight division title.
The Mets committed $44 million to sign Glavine and reliever Mike Stanton but still needed to upgrade one of the NL's worst offenses if they want to reverse a last-place finish.
Floyd batted .288 with 28 homers, 43 doubles and 79 RBIs last season for Boston, Montreal and Florida.
Floyd, who declined salary arbitration from Boston on Thursday, must pass a physical today to make the deal official.
After a disappointing 2002, Estes was reunited with manager Dusty Baker and former pitching coach Dick Pole.
Estes was an All-Star in 1997 when he pitched for Baker and Pole on the Giants, going 19-5 with a 3.18 ERA. He also won 15 games in 2000. But the former All-Star struggled last season, going 5-12 with a 5.10 ERA for the Reds and the Mets.
"I'm healthy, I'm confident and on top of all that, I think being reunited with Dusty and Dick will help me a lot," said Estes, who could earn $4.5 million with incentives.
Other prominent players not offered contracts were Boston first baseman Brian Daubach; White Sox pitchers Jim Parque and Todd Ritchie; Texas utilityman Frank Catalanotto, Mets pitcher John Thomson, and Florida outfielder Eric Owens.
In another trade, Pittsburgh acquired right-handed reliever Matt Herges from Montreal for minor-league right-handers Chris Young and Jon Searles to Montreal.
Herzog improving
St. Louis -- Former Royals and Cardinals manager Whitey Herzog was hospitalized in satisfactory condition and was moved out of intensive care Friday, a day after undergoing quadru ple bypass heart surgery. Herzog, 71, will be hospitalized another four-to-six days.
Santo's leg amputated
Chicago -- Cubs broadcaster Ron Santo underwent surgery Friday to have his left leg amputated below the knee, WGN-AM radio said. Santo, 62, said the procedure was necessary because of complications from diabetes. In December 2001, doctors amputated his right leg below the knee.
Copyright 2018 The Associated Press. All rights reserved. This material may not be published, broadcast, rewritten or redistributed. We strive to uphold our values for every story published.