Seattle — For the second time in less than two years, Boeing plans to radically alter its product development efforts as it struggles to come up with a new jet that will appeal to the world's airlines and slow the growth of rival Airbus.
Boeing Commercial Airplanes Chief Executive Alan Mulally is expected to announce today that Boeing will cease work on its proposed high-speed Sonic Cruiser and instead develop a conventional airplane that will use lightweight materials and other technologies to operate at significantly lower costs than today's commercial jets.
Mulally, a Lawrence High School and Kansas University graduate, was expected to deliver the news at a year-end press luncheon at Seattle's Bell Harbor Conference Center, according to an airline industry executive familiar with Boeing's plans.
A Boeing spokeswoman declined to comment.
Prior to stunning the aerospace world with futuristic images of the Sonic Cruiser on March 29, 2001, Boeing had spent several years developing a stretched version of the 747 that could compete with the 555-seat Airbus A380 due to enter service in 2006.
Boeing canceled the 747X the same day it launched the Sonic Cruiser.
A similar swap will occur today, as Mulally is expected to talk up the new "super-efficient" aircraft's ability to help financially foundering airlines improve their balance sheets by reducing operating costs 15 to 20 percent.
"There are still doubts about the (Sonic Cruiser) technology, but more importantly its economics have been overtaken by events," said Richard Aboulafia, an aviation analyst with the Teal Group, a consulting firm. "Airlines are looking for a bus with wings."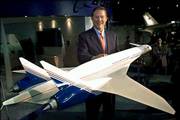 Like the Sonic Cruiser, the new plane is expected eventually to replace Boeing's slow-selling 757 and 767 models, which carry 200 to 250 passengers.
It is not clear when the new jet would enter service. The projected delivery date for the Sonic Cruiser was 2008, but Boeing had cautioned the date could slip to 2010 depending on the pace of the airline industry recovery.
It is also not clear what level of resources Boeing can commit to any new product in the near term. On a conference call with analysts and reporters to discuss the company's third-quarter earnings, Boeing Chairman Phil Condit said the company would not have a full-fledged launch of any airplane project until late 2003 at the earliest.
Condit also has pledged to hold research and development expenditures at 3 to 3.5 percent of revenues, even as revenues go down, so Boeing can maintain its profitability during the current down cycle. That will mean a shrinking pool of money for new projects. A new airplane model could cost upwards of $10 billion to develop.
Boeing operates a Wichita facility that employs about 15,000 people. The company is the state's largest private employer. It's unknown how much of the work on the Sonic Cruiser would have been done in Wichita.
Copyright 2018 The Lawrence Journal-World. All rights reserved. This material may not be published, broadcast, rewritten or redistributed. We strive to uphold our values for every story published.