College Park, Md. — It was one of those odd streaks that no one really noticed until it was about a decade old. Now that's it over, Maryland doesn't mind showing some pride over its run of 87 consecutive home nonconference victories.
Anthony Roberson scored 20 points as No. 14 Florida beat No. 18 Maryland, 69-64, Saturday, handing the Terrapins their first home defeat against a team from outside the Atlantic Coast Conference in more than 13 years.
"It was well-earned," Maryland coach Gary Williams said of the streak. "I don't think anybody gave us a game during that time. We beat some ranked teams. We probably played the same December schedule that everybody else played at this level.
"You don't talk about those things; they just kind of happen on their own, but I'm very proud of that streak. Nobody else in the country did it, so to me it wasn't a quirky little streak."
Maryland's last nonconference home defeat was 70-63 to Coppin State on Dec. 12, 1989.
The streak, the longest in the nation, began 18 days later with a 110-91 victory over Alcorn State, but the achievement was hard to take seriously because it was dominated by comfortable victories over outmatched opponents. Maryland-Eastern Shore and Maryland-Baltimore County are among schools with multiple appearances on the list.
The Terrapins defeated just three ranked opponents at home during the span - Kentucky, Oklahoma and Illinois - all within the last three years.
"I'm sorry I was here to be on the losing team," Maryland guard Steve Blake said. "It's a great streak, and all streaks come to an end."
The run included 84 straight wins at Cole Fieldhouse and three at the Terrapins' new Comcast Center. The loss also ended Maryland's 21-game overall home winning streak.
Roberson went 8-of-14 from the field, including 4-of-7 on three-point attempts. He's not a starter, but he played a team-high 33 minutes. Matt Bonner added 16 points for Florida (7-2).
No. 2 Alabama 72, Bowling Green 63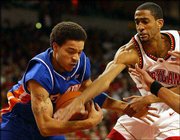 Mobile, Ala. - Kenny Walker saved No. 2 Alabama from embarrassment, scoring a career-high 25 points and hitting three key free throws to preserve a victory against Bowling Green. Kevin Netter scored 26 points for the Falcons (2-4) as Alabama (7-0) nearly made its highest ranking ever a one-week cameo.
Netter's hook shot in the lane made it 66-63 with 1:51 left, but Walker made perhaps his biggest play when he drew Netter's fifth foul 34 seconds later.
Walker hit one of two free throws and the Falcons didn't score again.
No. 4 Pittsburgh 89, SE Louisiana 55
Pittsburgh - Julius Page gave No. 4 Pittsburgh a big early lead with a series of dunks and fast-break layups. Page scored 17 points to help make up for the missing production of forward Donatas Zavackas, who was delayed in Europe while attending a funeral. Zavackas led Pitt with 20 points in its previous game, an 82-60 victory over Penn State.
No. 5 Oregon 105, Pepperdine 90
Malibu, Calif. - Luke Jackson scored 27 points, and freshman Ian Crosswhite scored 12 of his career-high 19 in the last seven minutes as No. 5 Oregon beat Pepperdine. Robert Johnson had a career-high 19 points and 10 rebounds; Luke Ridnour scored 15 points, and James Davis added 12 for the Ducks (6-0), who made 20 of 27 shots (74.1 percent) in the second half and 36-of-60 (60 percent) overall. Jackson also had seven rebounds and six assists.
No. 7 Indiana 66, Purdue 63
Indianapolis - Jeff Newton scored all 16 of points in the second half, including nine in the final three minutes, as No. 7 Indiana held off Purdue. Newton also had 12 rebounds to become the first Indiana player since Alan Henderson in 1995 to record five consecutive double-doubles.
No. 10 Notre Dame 102, DePaul 71
South Bend, Ind. - Matt Carroll had a career-high 33 points and No. 10 Notre Dame missed only two shots from two-point range in the first half. Carroll was 9-of-10 on two-pointers, and Chris Thomas added 22 points and 10 assists for the Irish (9-1).
Notre Dame shot 63 percent in the first half, including 87.5 percent from two-point range, to open a 48-36 lead.
No. 21 Michigan State 71, No. 12 Kentucky 67
Lexington, Ky. Chris Hill scored 16 points and made two free throws with 13.6 seconds left to seal No. 21 Michigan State's victory. Paul Davis added 13 and Alan Anderson had 10 for the Spartans (5-2), who won despite getting outrebounded for the first time this season. Kentucky (5-2) had a 34-30 advantage.
No. 24 Mississippi State 71, No. 13 Xavier 61
New York - After sitting out the first six games of the season, Mississippi State forward Mario Austin made up for lost time with 28 points and nine rebounds. The Bulldogs held out the 6-foot-9 junior while the NCAA cleared up questions about his eligibility as a freshman. Four days after rejoining the team, Austin helped the Bulldogs (6-1) win their sixth straight by outplaying Xavier's 6-9 forward David West. West, a two-time Atlantic 10 player of the year, had two points in the first half as the Musketeers (5-2) fell behind 33-15. He finished with 13 points, 6.7 below his average, but had 17 rebounds.
No. 15 Illinois 70, Temple 54
Chicago - Brian Cook had 25 points and 11 rebounds as Illinois held road-weary Temple to its worst shooting game of the season. Illinois (7-0) had only a 50-43 lad when Deron Williams and Sean Harrington made back-to-back 3-pointers to key a 20-9 run. David Hawkins scored 22 points to lead Temple (1-6).
No. 16 Marquette 63, Wisconsin 54
Milwaukee - Dwyane Wade scored 25 points and No. 16 Marquette snapped a four-game losing streak against Wisconsin. The Golden Eagles (6-1) also ended a 14-game winning streak by the Badgers (6-2) against in-state schools. Todd Townsend scored all nine of his points on three-pointers and none was bigger than his last, which gave Marquette some breathing room and a 55-48 lead with 3 minutes left.
No. 17 Tulsa 62, SW Missouri State 46
Springfield, Mo. - Kevin Johnson had 16 points, 12 rebounds and three blocked shots in No. 17 Tulsa's victory.
Southwest Missouri (2-4) closed to 38-36 with 8:07 remaining, but Tulsa (5-1) pulled away with a 24-10 game-ending run.
Johnson sparked Tulsa early in the second half with two straight baskets, but Southwest Missouri's Shelton Colwell countered with three straight field goals to get the Bears to 34-28.
No. 19 Stanford 76, St. Mary's 58
Stanford, Calif. - Julius Barnes scored 17 points as No. 19 Stanford defeated St. Mary's of California. Josh Childress added 16 points for the Cardinal (5-1), who were playing for the first time since losing in the championship game of the Preseason NIT 16 days ago. Justin Davis added 12 points and 10 rebounds for Stanford, which won its 18th straight nonconference home game, and has won 42 of 43 home games against nonconference foes.
No. 23 Creighton 101, Tennessee Tech 72
Omaha, Neb. - Kyle Korver hit six three-three pointers and had 20 points as No. 23 Creighton remained unbeaten. Joe Dabbert added a career-high 17 points, Larry House had 13 and Brody Deren 12 for the Bluejays.
The Bluejays are off to a 7-0 start for the second time in four seasons and the 11th time in the program's 85-year history.
Creighton outscored the Golden Eagles 17-0 over a 5:38 span of the first half to break open the game.
Copyright 2018 The Associated Press. All rights reserved. This material may not be published, broadcast, rewritten or redistributed. We strive to uphold our values for every story published.